Everyday millions, if not billions, of transactions flow through the financial system. At the same time the consumer and commercial demand for instant payments is increasing, shrinking the transaction processing window.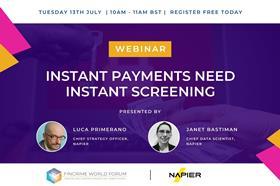 WEBINAR SUMMARY
Tuesday 13th July
Event Timings:
BST: 10am - 11am
CEST: 11am - 12pm
JST: 6pm - 7pm
Global anti-money laundering and sanctions regulations place increasingly complex obligations on financial institutions, which require more evidence to support decisions and greater transparency of the technology used for screening.
Consumer demand for a seamless payment experience is also driving a need for instant payments.
But existing screening technology is currently only adequate for yesterday's problems and yesterday's smaller transaction volumes. It is fraught with high volumes of false positives and has challenges in scaling to the demands of tomorrow's business needs.
Ultimately there is no assurance this technology is up to the task of supporting instant payments. But the reality is, instant payments need instant screening.
How can we achieve this:
Without compromising on financial crime compliance
Without compromising excellent standards of customer service
Without having to rip and replace entire technology stacks
And finally, keeping compliance costs in check?
In this webinar our AI experts share how financial institutions can enhance their screening technology with AI to reduce false positives by up to 40%.
Key takeaways for the audience:
Discover how to make screening faster to support instant payments
Understand how AI can reduce false positives in screening
Learn how to enhance an existing screening solution with an API to make screening more efficient
Meet the Speakers:
Luca Primerano
Chief Strategy Officer, Napier
Currently the Chief Strategy Officer, Luca is one of Napier's founding members and the former Chief AI Officer. As Head of the AI Research and Development team, Luca worked in partnership with tier-1 universities and clients. His current role focuses on building AI strategy for organisations. Luca has extensive experience in decision automation and digital transformation.
Prior to joining Napier Luca held roles at Goldman Sachs, Deutsche Bank and Deloitte and has an MS in engineering from Politecnico di Milano specialising in anomaly detection, data correlation and pattern identification.
Dr Janet Bastiman
Chief Data Scientist, Napier
Janet started coding in 1984 and discovered a passion for technology and problem solving. She holds degrees in both Molecular Biochemistry and Mathematics and has a PhD in Computational Neuroscience where she started her work in Artificial Intelligence. Janet has spent 20 years in industry pushing the boundaries of data science in telecommunications, marketing, and the financial sector, where she has helped both start-ups and established businesses implement and improve their AI offering prior to applying her expertise as Chief Data Scientist at Napier.
Janet is a committee member for the Royal Statistical Society Data Science Section and treasurer of the IEEE Stem Strategy Committee. She regularly speaks at conferences on topics in AI including explainability, testing, efficiency, and ethics.