Processes and technology are two key components to make any privacy program scale over time. But how do you know what to prioritise, automate and dedicate resources to?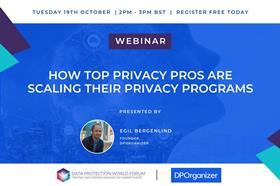 Webinar Summary:
Tuesday 19th October
Event Timings:
BST: 2pm - 3pm
CEST: 3pm - 4pm
EDT: 9am - 10am
Join this session and hear from professionals experienced in scaling to learn:
How they combine industry know-how and technology to build scalable programs
Their top tips on what processes you should automate vs what's worth spending time
Meet the Speaker:
Egil Bergenlind
Founder, DPOrganizer
Egil is the founder of DPOrganizer, a privacy management company based in Sweden. Egil got the idea for DPOrganizer when he was working as a DPO and Chief Compliance Officer at iZettle, a financial technology company. Since launching DPOrganizer, the company has gained customers in 20 countries and has been featured in Wired as one of Europe's hottest startups. Egil holds an LLM from Uppsala University and also received the "Legal Innovator of the Year" award in 2016 from industry media site Legaltech.