The Asia-Pacific Economic Corporation (APEC), Cross Border Privacy Rules (CBPR), and Privacy for Processors (PRP) Systems are initiatives that address cross-border data flows and increase protection of consumer information between the twenty-one participating APEC Member Economies. With data volumes growing across borders and industries, everyone benefits from being able to demonstrate compliance with internationally recognized privacy and security measures.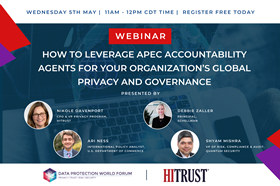 Webinar Summary
Wednesday 5th May
Event Timings:
APEC developed the CBPR and PRP Systems to enable businesses to demonstrate compliance with a commonly understood set of privacy standards that can be used to properly send data across the APEC economies, thereby establishing a level of certainty and predictability for companies that move data across borders, and an assurance of privacy and security for the individuals providing that data. This session walks the audience through the intricacies and opportunities of harmonization, coordination, and cooperation on privacy and data protection issues for global companies.
Key takeaways:
• Understand the APEC CBPRs and PRPs certification process
• Discover the value of and uses for such certifications
• Learn how to participate in the program(s)
Format: 45 minute presentation, 15 minute live audience Q&A
Meet the Speakers:
Nikole Davenport
Chief Privacy Officer & VP Privacy Program, HITRUST
Nikole Davenport is the Chief Privacy Officer and Vice President of Privacy Programs at HITRUST. She is responsible for building and strengthening HITRUST privacy initiatives, including the launch of a new HITRUST CSF Privacy Certification program. Ms. Davenport has more than 20 years' experience providing clients and companies with risk-based, regulatory compliance guidance as both an attorney and a senior manager at Deloitte. She is a regular presenter on the topic of privacy and has published a law review article on Privacy and the Internet of Things.
Debbie Zaller
Principal, Schellman
Debbie Zaller is a Partner at Schellman & Company, LLC. Debbie leads the firm's Midwest region along with the national service lines of SOC 2, SOC 3 and Privacy. As practice leader she is responsible for internal training, personnel development, methodology creation and quality reporting. Debbie has over 21 years of IT and privacy compliance and attestation experience. Debbie is currently an AICPA-approved and nationally listed SOC Specialist and speaker on various privacy topics. Debbie was on the AICPA Task Force for the Advanced SOC for Certification Exam, was a member of the Florida Institute of Certified Public Accountants Board of Governors and served on the Finance and Office Advisory Committee as well as Chair of the University of Florida Accounting Conference for the Florida Institute of Certified Public Accountants. She currently holds the following certifications: CPA, CIPP/US, CDPSE, CISSP, CISA, CCSK, PCI QSA.
Ari Ness
International Policy Analyst, U.S. Department of Commerce
Ari Ness is an International Policy Analyst at the U.S. Department of Commerce. He started this role in 2020 as a Policy Analyst for the Global Data Policy Team under the International Trade Administration. On the Global Data Policy Team, Ari covers data privacy and digital economy issues in the Middle East and Africa, global health data, and helps administer the Asia-Pacific Economic Cooperation (APEC) Cross-Border Privacy Rules (CBPR) System.
Prior to this work, Ari served as an International Trade Specialist and Administrator for the Privacy Shield Team at the U.S. Department of Commerce where he received his CIPP/E certification for comprehensive GDPR knowledge.
Shyam Mishra
VP or Risk, Compliance & Audit, Quantum Security
Shyam heads Quantum's Risk and Compliance practice, helping customers across industries transform their Cybersecurity and Data Privacy posture. Shyam is responsible for building Quantum's Risk, Compliance and Audit business through focused customer engagements and customer acquisitions, strategic partnerships, and delivery of its audit and advisory services. By helping organizations adopt the right frameworks, implement IT controls, and manage their risk and transformation agenda, Shyam helps them meet and exceed their business goals and regulatory commitments.
Prior to Quantum, Shyam was a Director and Global Process Owner (IAM) at IBM, leading global process, strategy, and technology to transform delivery and operations. He was also a Senior Director at Cognizant, leading GTM and buildout of Cognizant's Cloud & Infrastructure business in APJ.