Post-pandemic, establishing and maintaining trust will be an important differentiator for employees, customers, and partners.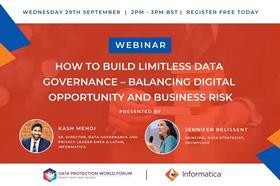 Webinar Summary
Wednesday 29th September
Event Timings:
BST: 2pm - 3pm
CEST: 3pm - 4pm
Organisations need to be mindful of their cloud data governance framework and strategy to meet data-focused regulatory compliance. Data misuse or breaches can irreversibly impact customer loyalty and market reputation.
So how can chief data officers, chief information security officers, compliance specialists, and line of business owners balance the need for greater data scalability, faster innovation, and perfectly timed customer experience against the need to manage governance and privacy risk?
Find out in this webinar, which brings together leaders in practical and strategic data governance and privacy from Informatica, Deloitte, and Snowflake to share real-world stories on:
Why limitless data governance drives business value
How data leaders can understand and avoid data constraints with an AI-powered platform to support the speed and scale of business
Building a no-limits cloud data governance framework and strategy for your organisation
Balancing digital opportunity and business risk by creating and enforcing granular data privacy controls at scale
How AI enables organisations to understand and manage innovation risk
How to make better connections in your data for faster, more accurate analytics
Meet the Speakers
Kash Mehdi
Sr. Director, Data Governance and Privacy Leader EMEA & LATAM, Informatica
Connecting people through data! Kash brings deep international data governance experience working with customers across various industries. In his current role at Informatica, Kash's responsibilities include providing leadership to the EMEA & Latam region to expand Data Governance & Privacy footprint, engage in business conversations, and craft the strategy for mapping solutions covering Data Governance, Catalog, Data Privacy, Data Quality, and MDM. Kash's expertise helps customers achieve business outcomes within Regulatory Compliance, Data Analytics, Customer Intelligence, and Digital Transformation.
Previously, Kash worked at Collibra where he started as the 5th founding member and leading a global advisory team to scale data governance programs for customers and help guide the company through milestones including double-digit revenue growth, customer acquisition, and market leadership. He also held a research role at the Bioinformatics division of UAMS and designed an ontology-driven quality framework supporting cancer research.
Kash has a master's degree in Information Quality from UA Little Rock in collaboration with MIT, and a bachelor's in Computer Science. He has appeared as a guest speaker at many international forums on (for) Data Governance and Kash's work has been published in journals like Gartner, Info Gov, International Data Governance Winter Conference (DG Winter), MITCDO Forum, DMC LATAM in Brazil, Collibra Data Citizens, Instituto Tecnológico Autónomo de México, International Association for Info.
Jennifer Belissent
Principal Data Strategist, Snowflake
Jennifer Belissent recently joined Snowflake as Principal Data Strategist. Jennifer spent the past 12 years at Forrester Research as an internationally recognized expert in data leadership and literacy; best practices in building CoEs; data sharing and the data economy; and data-for-good with applications to climate science, humanitarian assistance, and effective government. Jennifer is widely published and a frequent speaker at business, academic and government events.
Previously, Jennifer held management positions in the Silicon Valley, designed urban policy programs and advised governments in Eastern Europe and Russia, and taught math as a Peace Corps volunteer in Central Africa. Jennifer earned a Ph.D. and an M.A. in political science from Stanford University and a B.A. in econometrics from the University of Virginia. She currently lives in the French Alps, and is an avid alpinist and intrepid world traveler.