Today's distributed, dynamic, and disrupted business has to navigate the velocity of risks which demands agility, resilience, and integrity.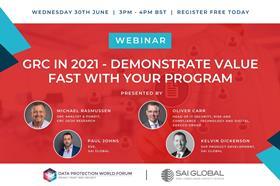 WEBINAR SUMMARY
Wednesday 30th June
Event Timings:
BST: 3pm - 4pm
EDT: 10am - 11am
Effective decision-making around risks and compliance has long been a core differentiator between companies that simply survive and those that thrive. As organizations accelerate in their GRC maturity, this all too often results in more complexity that slows the business down at a time it needs to be quick on its feet in addressing risk and ensuring integrity.
In this webinar, our panel of experts and practitioners explore the keys to a simple, yet effective GRC program focused on driving value. Don't miss this opportunity to get real-world advice and take your program to the next level.
Join our experts as they share their experiences and discuss:
What does agile GRC look like in practice
Why and how to get the business engaged
Practical ways to measure and communicate the value of your program
Pitfalls to avoid in selecting technology
Building a business case and get executive buy in
Meet the Speakers:
Michael Rasmussen
GRC Analyst & Pundit, GRC 20/20 Research
Michael Rasmussen is an internationally recognized pundit on governance, risk management, and compliance (GRC). With 27+ years of experience, Michael helps organizations improve GRC processes and choose technologies that are effective, efficient, and agile. He is a sought-after keynote speaker, author, and advisor and is noted as the "Father of GRC" — being the first to define and model the GRC market in 2002 while at Forrester.
Prior to founding GRC 20/20 Research, Michael was a Vice-President and 'Top Analyst' at Forrester Research, Inc. Before Forrester, he led the risk/compliance consulting practice at a professional services firm and has specific experience managing compliance and risk within organizations.
Michael's educational experience consists of a Juris Doctorate and a Bachelor of Science in Business. Michael is currently pursuing a Master of Divinity at Trinity Evangelical Divinity School with a research focus in ethics and church history. He is GRCP (GRC Professional), a CCEP (Certified Compliance and Ethic Professional) as well as a CISSP (Certified Information Systems Security Professional). OCEG has recognized him as an OCEG Fellow for his contributions and advancement of GRC practices around the world.
Oliver Carr
Head of IT Security, Risk and Compliance – Technology and Digital, Adecco Group
Oliver Carr is Cybersecurity Leader with a Passion and over 20 years of global team leadership in Information Security (InfoSec) and Cyber Security (CyberSec). Having worked in both global consulting and line-organisation roles, he is passionate about developing and delivering tangible business results using cyber security methods, solutions, and tools, demonstrating that cyber security is an essential business enabler.
Kelvin Dickenson
SVP Product Development, SAI Global
Moderator of Session: Paul Johns
EVP, SAI Global
A governance, risk & compliance (GRC) industry veteran, Paul Johns brings a wealth of experience and thought leadership, redefining how the business engages with the market and its customers. Paul formerly led the global marketing strategy for Thomson Reuters' $6.1bn Financial and Risk division.