Three years on from the entry into force of the GDPR and the privacy landscape is still as complex as ever. The past 12 months have continued to be wrought with action and a heightened sense of privacy awareness.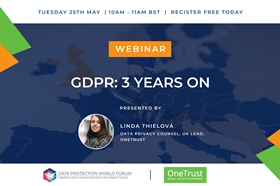 WEBINAR SUMMARY
Tuesday 25th May
Event Timings:
BST: 10am - 11am
CET: 11am - 12pm
Developments in the Schrems II case and the privacy implications of the Coronavirus have highlighted a new level of compliance considerations for organisations to navigate and now that the regulation has been in full force for three years, what's changed and what do organisations need to know?
In this session, we'll share the top lessons learned in this new era of privacy, including enforcement and data breach insight, and thoughts about the future of privacy. We will also discuss the major developments that organisations should be aware of and how they can be actively preparing for them.
Key Takeaways include:
Understand the main privacy trends of the past year and how organisations have managed these developments
A look ahead to the implications of on-going privacy developments
An analysis of privacy trends and areas of compliance that various European DPAs are focusing on in 2021
Meet the Speaker:
Linda Thielová, CIPP/E, CIPP/US, CIPM
Data Privacy Counsel, UK Lead, OneTrust
Linda Thielová serves as a Privacy Counsel at OneTrust – the #1 most widely used privacy, security and trust technology platform. In her role, Linda provides guidance on GDPR, ePrivacy and global privacy-related obligations to support product innovation and assist with compliance efforts for a wide spectrum of organizations from both private and public sectors.
She also conducts training and workshops on the global privacy landscape and contributes to various publications and conferences on a regular basis. Linda is a Certified Information Privacy Professional (CIPP/E, CIPM, CIPP/US) and earned a Master's in Law and Legal Science from Masaryk University Brno.