Webinar produced by GRC World Forums in association with Sypher
Webinar Summary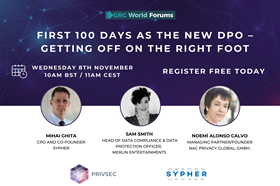 Wednesday, 8th November
Event Timings:
BST: 10:00 am
CEST: 11:00 am
In this session, our panel will discuss the key challenges you may face in the first few months of your DPO role in a new organisation, and suggest strategies for overcoming them.

The webinar discussion will better prepare you to:
Assess your readiness to demonstrate compliance;
Identify potential vulnerabilities and address compliance gaps;
Build trust and credibility;
Gain stakeholder buy-in;
Measure progress and achieve your goals.


Join us to improve your transition into the role and drive effective privacy management within your organisation.


Meet the Speakers
Mihai Ghita
CPO and Co-Founder, Sypher
Mihai Ghita is the Co-founder and Chief Product Officer at Sypher, a technology company that builds privacy management and compliance software. He has over 20 years of experience of working in and with the risk and insurance industry.
Noemí Alonso Calvo
Managing Partner/Principal Privacy Consultant, The Privacy ACES, GmbH
Noemí is a Spanish qualified lawyer with over 20 years of Privacy experience. She started her career in top-tier Law Firms (Clifford Chance, DLA Piper, Allen & Overy) in Madrid, to then move on to being an in-house Privacy Lawyer at J&J also in Madrid, where she had a regional role.
Sam Smith
Head of Data Compliance & Data Protection Officer, Merlin Entertainments
Sam is a UK qualified Solicitor and CIPM accredited Group Data Protection Officer with extensive knowledge of GDPR and international privacy and data protection laws. Sam is experienced in providing compliance advice on a global scale, across both the private and public sectors.