Webinar produced by GRC World Forums in association with OneTrust
Webinar Summary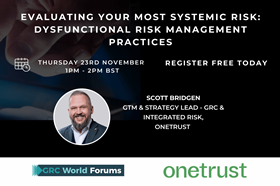 Thursday, 23rd November
Event Timings:
BST: 1:00 pm - 2:00 pm
In today's hyper-connected and volatile world, security risk is more costly and dangerous than ever. Adversaries are thriving by targeting the blind spots caused by organisational indecision - and lack of control - over InfoSec and cyber risk.
Remarkably few companies are proactively controlling risk by systematically identifying, analysing, and defensibly managing it using an approach that genuinely aligns security risk management with the direction the business is travelling in.

Join Scott Bridgen, OneTrust's GTM & Strategy Lead - GRC & Integrated Risk in this session in which he will share insights and practical considerations around the following:
The ever-changing nature of data assets, processes, and external threats.
Refining programs based on regulatory requirements and budget restrictions.
Balancing oversight and driving accountability for better first-line engagement.
The value, boundaries, and limits of InfoSec certifications


Meet the Speaker
Scott Bridgen
GTM & Strategy Lead - GRC & Integrated Risk, OneTrust
Scott has spent over two decades in various roles across Risk & Compliance. With 9 years in Risk Management working in the Defence sector, 7 years in Ethics & Whistleblowing, through to working directly for GRC software vendors. Scott has experience working with customers of all sizes, from the beginning of their journey to mature strategic Risk & Compliance initiatives.