It's not a matter of if, but when. Ransomware incidents are on the rise and it is crippling companies. But there are key things you can and should be doing to prevent and recover in the event of a ransomware attack.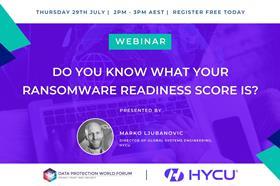 WEBINAR SUMMARY
Thursday 29th July
Event Timings:
SGT: 12pm - 1pm
AEST: 2pm - 3pm
NZST: 4pm - 5pm
In this interactive presentation, we will share more on how to determine what your Ransomware Readiness Score is and how to overcome any gaps in your current strategy.
You will learn:
How to determine your Ransomware Readiness Score
How to identify gaps and overcome key challenges
How the right Backup as a Service strategy can help deter and recover in the event of an incident
Meet the Speaker:
Marko Ljubanovic
Director of Global Systems Engineering, HYCU
Marko is the director of global systems engineering at HYCU. For more than 15 years, his focus has been on design and support for next-generation data protection, multi-cloud, backup and recovery to companies worldwide.
Prior to HYCU, he held pre-sales, project management and technical team leadership positions at Comtrade Software and Hermes Softlab. There are few technology issues or challenges that Marko and his teams have not been able to meet.
When not solving the hardest technology challenges, you can find Marko enjoying the surf with friends and family. He holds a BSc in Information Technology from the University of Ljubljana.