The increasing number and complexity of privacy laws have been the driving force for organisations to shift focus from tick-the-box compliance exercises to automated privacy solutions.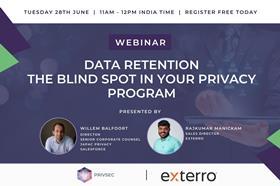 WEBINAR SUMMARY
Event Timings:
India Time: 11am - 12pm
To maintain consumer trust and avoid brand damage due to costly data breaches, companies must implement integrated data governance principles and procedures. Given the amount of data that businesses collect, process and store, as well as the speed at which that data is managed, effective and efficient human and technology systems must be implemented to avoid any personally identifiable information breach.
According to a survey by the ACC, privacy technology and breach management software is among the top three priorities of in-house counsel to maintain defensibility and GDPR compliance. However, understanding and maintaining up-to-date data retention strategies is one of many obstacles privacy professionals deal with and is often the blind spot in the privacy program. How can organisations integrate enforcement of policies like data retention, data minimization, access requests, etc. across the organization's IT ecosystem?
Join this webinar to learn about:
The risks of failing to operationalize data retention programs
Existing and emerging data retention obligations in the context of GDPR
Creating a more collaborative, software-driven process for security and privacy teams to work effectively together.
Meet the Speakers:
Willem Balfoort
Director, Senior Corporate Counsel JAPAC Privacy, Salesforce
Raj Kumar Manickam
Sales Director, Exterro