Consumers around the world are demanding more protection for their personal information. Data breaches are daily occurrences, and the scope of privacy has widened to include how your organization limits the risk of improper use or exposure of personal data.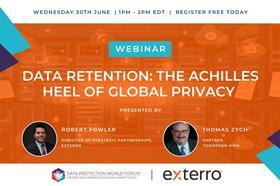 WEBINAR SUMMARY
Wednesday 30th June
Event Timings:
PDT: 10am - 1am
EDT: 1pm - 2pm
BST: 6pm - 7pm
While the demand to remove data once its purpose is fulfilled has been part of GDPR from the beginning, pressure is mounting due to new retention period disclosure rules in the recently adopted CPRA. Over-retained data is a privacy violation that exists in almost every organization, due to a mismatch between the design of existing data retention programs and the new privacy focused requirements.
In this webcast, we will help you understand how the data disposal requirements in privacy regulations differ from past data retention obligations, and show you what you need to do to modernize your data retention programs and technology to stay compliant.
You'll learn:
How data retention for privacy is different from most existing data retention requirements
How to get the triple win of lower risk, reduced costs and compliance
Paths to operational success
Meet the Speakers:
Robert Fowler
Director of Strategic Partnerships, Exterro
Robert Fowler is the Director of Strategic Partnerships at Exterro. Robert has over a decade of experience helping legal, compliance, privacy and IT executives in the areas of information governance, data mapping, data minimization, and third-party diligence. He has helped hundreds of leading companies develop and maintain comprehensive data inventories to comply with expanding data privacy regulations and implement defensible data minimization and deletion strategies to dramatically reduce the amount of email,electronic information and paper records.
His extensive experience and knowledge of information governance and data privacy requirements enables him to help clients establish effective processes for ongoing compliance. Robert has worked with executives at companies including J. Crew, Smith & Wesson, Louis Vuitton, Brown Brothers Harriman, Raymond James and Newell Rubbermaid.
Robert is a Certified Information Privacy Professional, (CIPP/US)and has an M.B.A., Masters of Business Administration from Webster University.
Thomas Zych
Partner, Thompson Hine
Tom heads the Privacy & Cybersecurity team and chairs the firm's Emerging Technologies Practice. Tom has over 30 years of experience in a wide range of data protection, intellectual property, consumer protection, social media,competition and antitrust matters. Tom represents a full range of business enterprises in their privacy and data security operations.
His technology practice focuses on providing strategic counseling to both mature and early stage technology ventures, including click and mortar enterprises, biotechnology and bioinformatics ventures, and established businesses adopting electronic and technologically advanced means of competition.
He also has considerable experience in trade secret litigation and counseling; patent, trademark and copyright litigation; intellectual property transactions including joint ventures,development agreements and licensing transactions; corporate internal investigations; merger and acquisition counseling; antitrust criminal investigations; antitrust civil litigation; and social media marketing and advertising, promotional content, consumer testimonials, compliance with FTC standards, promotion of experimental therapies in light of advertising and privacy laws, social media service agreements and moderating employee activity on social media sites.