Webinar produced by GRC World Forums in association with Exterro
Webinar Summary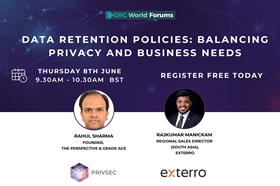 Thursday, 8th of June
Event Timings:
Time: 9:30 - 10:30am BST
Format: 45-minute presentation, 15-minute live audience Q&A
Data retention policies are crucial in defining how organizations manage and store data in today's digital age. However, finding the right balance between privacy requirements and business needs can take time and effort. In this presentation, we will explore the intricacies of data retention policies and the best practices for creating policies that balance privacy and business considerations.
The presentation will cover key topics, including the legal and regulatory landscape surrounding data retention, the importance of privacy in data management, and the potential risks and consequences of inadequate data retention policies. We will also discuss the factors organizations must consider when developing data retention policies, such as data type, storage duration, access controls, and data destruction.
Meet the Speakers
Rahul Sharma
Founder, The Perspective & Grade Ace

Rahul is founder – The Perspective & Grade Ace with over twelve years of experience working in Technology, Public Policy, Cyber Security & Data Protection space, engaging with a range of stakeholder locally and globally to address the challenges in the evolving cyber ecosystem & value add as a Trusted Advisor.
Rajkumar Manickam
Regional Sales Director (South Asia),Exterro

An MBA graduate with computers background, Rajkumar Manickam is a Regional Sales Director (South Asia) at Exterro. Exterro Inc. is the only software provider offering a comprehensive Legal Governance, Risk and Compliance (Legal GRC) software platform to automate the complex interactions of Legal Operations, Data Privacy and Digital Investigations.