While the CCPA doesn't explicitly address data retention and data minimization practices, California voters chose to expand their rights by passing the California Privacy Rights Act (CPRA) in November of 2020, which fills in those data retention and minimization gaps.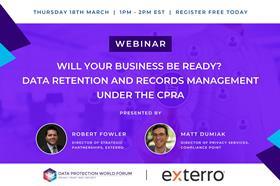 Webinar Summary
Thursday 18th March
Event Timings:
GMT: 6pm - 7pm
EST: 1pm - 2pm
Starting in 2023, storing sensitive personal data that no longer serves a business purpose will be a penalty, and the California AG will be able to directly enforce the failure to minimize consumer data.
In this webcast, we'll take a look at five key ways the CPRA creates a risk to organizations, and how altering and enforcing retention standards across the enterprise can help your organization maintain compliance and avoid regulatory fines.
You'll learn:
• The impact CPRA will have on organizations and what legal teams need to consider now
• Data retention requirements and what this means for your organization
• How to best implement data inventory and minimization strategies in 2021 to protect your company's data and your organization
Format: 45 minute presentation, 15 minute live audience Q&A
Meet The Speakers
Robert Fowler
Director of Strategic Partnerships, Exterro
Robert Fowler is the Director of Strategic Partnerships at Exterro. Robert has over a decade of experience helping legal, compliance, privacy and IT executives in the areas of information governance, data mapping, data minimization, and third-party diligence. He has helped hundreds of leading companies develop and maintain comprehensive data inventories to comply with expanding data privacy regulations and implement defensible data minimization and deletion strategies to dramatically reduce the amount of email, electronic information and paper records.
His extensive experience and knowledge of information governance and data privacy requirements enables him to help clients establish effective processes for ongoing compliance. Robert has worked with executives at companies including J. Crew, Smith & Wesson, Louis Vuitton, Brown Brothers Harriman, Raymond James and Newell Rubbermaid.
Robert is a Certified Information Privacy Professional, (CIPP/US) and has an M.B.A., Masters of Business Administration from Webster University.
Matt Dumiak
Director of Privacy Services, CompliancePoint
Matt Dumiak is the Director of Privacy Services at CompliancePoint. Matt's focus is U.S. and international privacy regulations.
Matt works with clients in a variety of industries and is dedicated to providing practical and reliable consulting and implementation recommendations surrounding risk management. Matt holds the Certified Information Privacy Professional (CIPP/US and CIPP/E) certifications from the International Association of Privacy Professionals (IAPP).