After the attack: Mitigating Organisational Impact of a Data Breach?
WEBINAR SUMMARY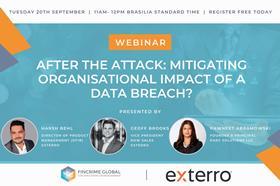 Tuesday 20th September
Event Timings:
Brasilia Standard Time: 11AM - 12PM
You can't ignore the headlines. We have seen that any organisation, at any time, can suffer a cybersecurity attack, resulting in a devastating data breach. It's a question of "when" rather than "If".IT pros are well aware that even the most sophisticated defences can be overturned by human error or malicious internal actions. Beyond the endpoint security, firewalls and other protective mechanisms that they have already set up, they need to seek out additional ways to bolster their network defences.
An important element of recovering from a cybersecurity incident is having in place a coordinated process for analysing, reporting, and remediating as quickly as possible after the attack. But manual investigations involve too much time and too many variables to constitute an adequate post-breach strategy.
Factors such as these, plus the need to gather data in a manner that will be defensible in a court of law, has given rise to fast-growing demand for robust post-breach response tools. And this is where digital forensic tools come in. Join our panel of experts to learn more.
Format: 45 minute presentation, 15 minute live audience Q&A
Meet the Speakers:
Harsh Behl
Director of Product Management (DFIR), Exterro
Harsh is Exterro's Director of Product Management. Harsh brings a wealth of experience, knowledge, and technical skill sets, steering the vision and execution of our market-leading Digital Forensics and Incident Response (DFIR) technologies. Harsh has been instrumental in bringing to market the industry's latest innovations, including FTK Central and FTK 7.5, which are set to change the shape of digital forensics as we know it.
Pawneet Abramowski
Founder & Principal, PARC Solutions LLC
Senior Compliance/Risk Executive with 25 years' achievements in the public and private sector and recognized for financial crimes risk management (FCRM) subject matter expertise spanning anti-money laundering (AML), fraud, sanctions, anti-corruption, regulation, and compliance. Proven record for transforming risk and compliance functions. Known for introducing innovative management techniques that improve organizational risk management capabilities while balancing regulatory relationships and expectations on behalf of the Client.
Geoffrey Brooks
Vice President ROW Sales, Exterro
Having lived and worked in the Middle East for 10+ years, Geoffrey built a strong professional network throughout many industries including government, telecoms and finance. He has 20 years experience within the Cyber Security software sector and a proven record in establishing new niche technologies within the region. He is successful in building out comprehensive sales and marketing strategies and managing their execution.