The events of 2021 have created a paradigm shift in cybersecurity. The steady cadence of large-scale cyber attacks have accelerated a move away from perimeter-focused security to Zero Trust. While core foundations of Zero Trust have been implemented, many tech leaders are still missing a critical piece of the puzzle for safeguarding their data.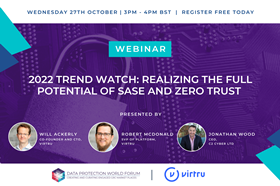 Webinar Summary
Wednesday 27th October
Event Timings:
BST: 3pm - 4pm
ET: 10am - 11am
So, what's on the horizon for cybersecurity in 2022, and how can leaders take advantage of the full potential of Zero Trust and SASE?
There are several facets of security that we expect to gain speed, power, and momentum in the coming year, including open-source solutions that connect identity to data, making itself-protecting.
Join Virtru's Co-Founder and CTO, Will Ackerly; EVP, Data Protection Platform, Rob McDonald; for an in-depth discussion of trends that security leaders should be watching now and into 2022. Listen in to hear the latest insights on:
Key considerations for maximizing your technology investments in 2022
What a strong Zero Trust architecture looks like in practice
The newest aspects of Zero Trust maturity models
How to leverage encryption to make your data self-protecting wherever it travels
The missing pieces necessary to fulfill the promise of SASE for data protection
Meet the Speakers
Will Ackerly
Co-Founder and CTO, Virtru
Will is the CTO and Co-Founder of Virtru. Prior to founding Virtru, Will spent eight years at the National Security Agency (NSA) where he specialized in cloud analytics and security architecture—specifically protecting the agency's in-house data transfers. During his tenure at the NSA, Will invented the Trusted Data Format (TDF), an open standard used today by various government agencies for the secure transfer of data and the technical foundation upon which Virtru was founded.
Will graduated from Rose-Hulman Institute of Technology with a Bachelor of Science degree in Electrical and Electronics Engineering.
Robert McDonald
SVP of Platform, Virtru
Rob is the SVP of Platform and an advocate of safeguarding data across new applications and data-sharing workflows. Prior to Virtru, Rob was the CIO for several Acute Care facilities and Denovo Healthcare development teams. His significant expertise in the healthcare industry earned him a spot in Becker's Review as a 2013 and 2014 Top 100 Healthcare CIOs.
Rob has also consulted with corporations to help them assess their current information security position and develop a plan to not only mitigate the discovered technical shortcomings but more critically to raise security awareness amongst their employees.
Rob holds a Bachelor of Science degree in Computer Science from the University of Texas at Dallas and is a perpetual student of technology, information security, and privacy practices.
Jonathan Wood
CEO, C2 Cyber
Jonathan is both a chartered engineer and company director, a certified Privacy Professional, Data Protection Officer and Information Systems Security Professional and also holds a Masters degree in Renewable Energy Systems Technology, yet none of his qualifications have so far taught him how to understand his two young children. He founded C2 Cyber in 2015 in order to enable companies to operate and thrive in tomorrow's digital world. With a background of 20 years in operational intelligence deployments, cyber services delivery and corporate security strategy he has experienced the rise of the threat landscape at first hand and is passionate about building a team to help customers navigate it.