Academic, Politician & Diplomat, Former Secretary of State for International Development
In a remarkable career, Rory Stewart has been an academic, writer, adventurer, politician and diplomat. After time in the Army and the diplomatic service, he trekked across Afghanistan, was appointed a fellow at Harvard, and wrote a number of books before entering Parliament. He was a cabinet minister before his bid for the Conservative Party leadership, an often heated contest to which he introduced a more moderate, progressive tone. He is now a Senior Fellow at Yale teaching politics and international relations.
After university (during which time he was a summer tutor to Princes William and Harry) Rory served briefly as an Army officer before joining the Diplomatic Service with posts in Indonesia and as the British Representative in Montenegro in the wake of the Kosovo conflict. He then spent two years walking 6,000 miles across rural Pakistan, Iran, Afghanistan, India and Nepal. His walk across Afghanistan shortly after the US invasion is described in his award winning book, The Places In Between.
Rory was then appointed Deputy Governor of two provinces (Maysan and Dhi Qar) in Southern Iraq. His responsibilities included organising elections, resolving disputes and implementing development projects. He also met growing civil discontentment with the allied occupation and faced a siege of his compound. His experiences in Iraq were documented in another best-selling book, The Prince of the Marshes - And Other Occupational Hazards of A Year in Iraq.
Having established a charity in Kabul and worked as a Professor of Human Rights at Harvard, Rory returned to the UK where he was elected as an MP. In Parliament he chaired the Defence Select Committee, and held ministerial posts responsible for international development and prisons, before becoming Secretary of State for International Development. When Theresa May resigned as Prime Minister, Rory entered the race to succeed her, gaining unexpected levels of support within the party, and winning over many non-Conservatives with his common sense, conciliatory tone. He has since teamed up with the former Labour strategist and communications director Alastair Campbell for the podcast The Rest is Politics where, together, they discuss global politics and the inner workings of Parliament from across the political divide.
Rory is now a Senior Fellow at Yale's Jackson Institute for Global Affairs where he focuses on international development, intervention in fragile states, and the wider crisis in contemporary politics. He is also the co-author of Can Intervention Work? which examines the effects of political and military intervention on international affairs, human rights and how we understand nation building.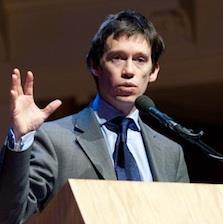 My Sessions
War in Europe, rise of populism and geopolitical risk
17 November 2022, 14:15 - 15:00 GMT