Head of Information and Cyber Security
Noha Amin, Cyber Security Woman Leader, Multi awards winner in the UK, Canada, and the Middle East. Currently working as a Head of Information and Cyber Security and a Non-Executive Director Associate Member.
Have been featured as Top 50 NW Digital Transformers UK by Business Cloud 2022 and Top 30 Women in Tech in Manchester, March 2018 by Manchester Evening News. Moreover, have been recognized by Manchester Digital as a Real Role Model for Digital Her and a Manchester Tech Trust member.
Amin's crucial contribution traversed between being a Steering Committee Member for Tech Show North 2019, a Member of the Women Directors Forum in the UK, an Advisory Board Member for CISOCouncil–Middle East, and had been a Chairwoman for the WLCS initiative (Women Leaders in CyberSecurity), as well as an Advisory Board Member for OWASP ME (Open Web Application Security Project – Middle East) – WICS initiative (Women in Cyber Security).
Her influence in the cyber security arena extended to being a conferences/webinars speaker, panelist, and podcaster in UAE and the UK, as well as being an Advisory Committee Member for several Cyber Security Resilience Conferences in the UAE and a Key contributor to several Cyber Security Initiatives and Conclaves in Bahrain.
Her spanned work in financial, telecom, and Legal industries over 20 years has allowed me to contribute to the cyber security community in the Gulf and the UK.
Noha is a Founder of www.Gaviotta.com (2015-2020) and www.ShadesOfSecurity.com (undergoing development) platforms for promoting, mentoring, and supporting Cyber Security Awareness and Women Empowerment and Leadership.
Out of working hours, she is a squash player at the Northern Lawn Tennis Club, Manchester, and a member of the Women's Squash Third Team. Mother of three girls, she could showcase a resilient work-life balance to enjoy her personal life and achieve her career goals.
Amin's passionate about improving cyber security, and she believes in her strong ability and contribution to different businesses and organizations to lift their cyber security posture and align business goals with security teams' individual goals.
Noha's skill set provides her with robust experience in delivering strategies and roadmaps in suitable business language within various comms channels (i.e. dashboards, presentations, reports, meetings, conferences, … etc). Furthermore, her expanded experience in different industries shaped her ability to adapt to various organizations and business needs.
Noha's philosophy is, "Everyone is unique! You create your brand with your professional attitude, creativity, and positive thinking, showcase a good character, and develop a skill set! So, you can beat any challenge with your commitment, sense of ownership, and competencies."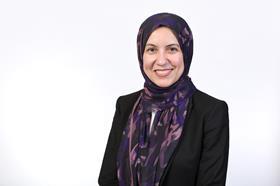 My Sessions
Third Party Risk Management: Strategies and Tools to Mitigate Cyber Threats
Day 1, Tuesday 12th September 2023, 13:45 - 14:30 PM BST