Tinder Swindler Victim Keynote – A story of Fraud and Deception
Cecilie Fjellhøy, the victim of the notorious Tinder Swindler, shares her harrowing journey of fraud and deception in her gripping keynote talk. Her story made headlines worldwide and became the most-watched documentary ever on Netflix.
Fjellhøy takes the audience through the chilling experience of falling victim to Simon Leviev's Ponzi scheme and enduring emotional abuse. When the authorities failed to act, she took matters into her own hands, sparking a viral sensation in Norway. Her story was transformed into the Netflix hit "The Tinder Swindler."
Join Cecilie Fjellhøy as she delves into the world of cyber deception, digital identity, and her relentless quest for justice.
Don't miss Cecilie's keynote at #RISK London "A story of Fraud and Deception"
#RISK is free to attend – Register NOW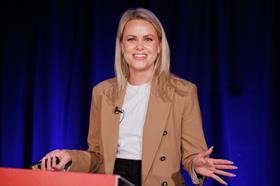 My Sessions
Keynote – A story of Fraud and Deception
Day 2, Thursday 19th October 2023, 12:00 PM - 13:00 PM BST
#RISK Theatre