Keith Price describes his career journey from the US Air Force to managed security services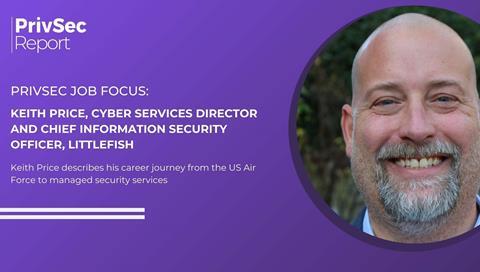 What is your full job title?
Keith Price, Cyber Services Director & Chief Informaion Secuirty Officer,, Littlefish
Which industry do you work in? (data protection/security/privacy)
Managed Security Services
How long have you worked in the industry?
30 years
How long have you worked in your current role?
Two months
How did you get into your current role?
I started in the United States Air Force (USAF), where I worked for 20 years in technology and munitions systems. I have a background in IT operations, where I worked in mainframe, server, and network engineering and administration. I then moved across into enterprise architecture and planning, and eventually into security architecture and strategy. After retiring from the USAF, I then spent the next 10 years working across various sectors; healthcare, defence and intelligence, consulting, and internal cyber security for Deloitte EMEA. I have worked in over 20 countries primarily in EMEA and APAC.
What does a typical day look like?
I typically start my day reviewing security reports that have come in overnight. I also catch up on security podcasts and news, and global news in general as this can inform the cyber landscape.
My day will then consist of various meetings with customers, security steering groups, and as I am also responsible for our internal security I spend time guiding the Littlefish GRC elements.
I like to continue my own learning and education over lunch, where I build my capabilities outside of cyber, in areas like business management and leadership/coaching skills. I also enjoy partaking in "lunch and learn" sessions with other Littlefish teams, and under the constraints of the pandemic, this has been valuable in getting to know my colleagues.
At the end of the day, I spend time with my family, playing with my kids, cooking a meal together and eventually winding down with my wife and I discussing the days' events
What is your greatest achievement so far?
Outside of finding my soulmate Jennie and raising 7 kids together, my greatest professional achievement is not tied to any one event or project. From early on in my military career, as a young sergeant, I made it my priority to take care of my teams, and provide them with compassionate and loyal leadership. If you care for and genuinely look after your people, and act responsibly and accountable, you will rarely go wrong.
What is the most challenging thing about your role?
Maintaining a balance between customer engagements and internal security challenges.
What part of your role do you enjoy the most?
Learning and empathising with customer's needs, while providing them with honest and trusted advice. Accomplishing a goal alongside a customer who a year ago was starting at ground zero, but who now had 10 times more confidence in the security and resilience of their organisation.
How do you see your role/industry changing in the next few years?
Like many others have responded, I think AI and ML are keys to not only reacting to threats quickly, but also in lowering the high costs of cyber, which are typically barriers to entry for SMBs. By focusing on building BU-targeted cyber culture and awareness within an organisation we capitalise on threat-specific methodologies that enhance the overall security posture. This evolves cyber from a cost centre into a business enabler and differentiator.
Would you recommend working in this role? Please give your reasons.
If you like 9-5, then perhaps cyber is not the right fit. However, it is not all doom and gloom, and cyber is one of the most quickly growing professions on the planet, and the domains within are wide and varied. Most traditionalists believe that a person has to have a solid background in IT or technology before moving into cyber, but there are emerging cyber roles in education, psychology, sociology, statistics, business, and law that introduce new possibilities into the field. Critical and creative thinking are imperative to succeeding in cyber, and these are traits that are hard to teach.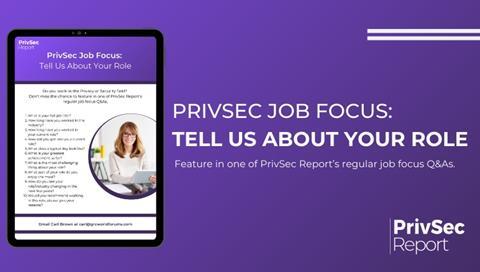 Do you work in privacy, security or data protection? Don't miss the chance to feature in one of PrivSec Report's regular job focus Q&As.
We are looking for people who work in privacy, security and data protection roles and those who work in related legal and regulatory fields across a range of industries to tell us about their everyday job.
Just fill in our short Q&A (see questions above) and submit a photograph to be considered for inclusion. We want to feature people of all levels of seniority.
If you want to take part, email Carl Brown at carl@grcworldforums.com