Claire Hatcher talks about the importance of cross-industry collaboration when tackling cyber fraud
What is your full job title?
Global Head of Business Development for Fraud Prevention at Kaspersky
Which industry do you work in? (data protection/security/privacy)
I work in cybersecurity, specifically fraud prevention, which explores how we work with industries and governments to ultimately protect the end consumer and citizens against fraud in online and mobile channels.
How long have you worked in the industry?
I have worked in the industry for over 10 years.
How long have you worked in your current role?
I have been in my current role for two years.
How did you get into your current role?
I've been in fraud prevention for over 10 years and worked in a number of roles during that time. As part of the skillset I acquired during those years, I was asked to lead a team from a business development perspective, looking at how we could grow the product line through our efforts with business development, pre-sales and marketing.
What does a typical day look like?
That's a tough question as every day can be different. Typically, I will work with clients to understand their business challenges and exploring how our technology will help them solve those issues. I will also speak with my team to discuss our marketing and pre-sales activities and collaborate with other internal stakeholders such as product management and R&D to consider our strategy and business priorities.
What is your greatest achievement so far?
From a personal perspective getting my MBA alongside a full-time job as that took a lot of energy and commitment. From a work perspective, I'm proud of some of our recent collaborations with other product lines to develop innovative solutions.
What is the most challenging thing about your role?
The speed at which technology changes is immense, so predicting the future market trends can be difficult.
What part of your role do you enjoy the most?
Since I have a global role, I really enjoy understanding the requirements of businesses in different countries, their regulations and how we can adapt our technology to suit their needs. I'm also fascinated by the way fraud schemes evolve and how we can help mitigate against those ever-changing risks. I like anything that helps me challenge my perceptions and current ways of working.
How do you see your role/industry changing in the next few years?
The pandemic has meant that many traditional businesses have moved online, and people have become accustomed to remote working. I suspect that we might see some changes with an increasing number of businesses moving to online models and as such the fraud schemes will become even more sophisticated than ever. I believe my role will be looking at collaborations in terms of how to bring all of the different inputs together from links across diverse industries and technologies that have not previously been as affected by fraud or authentication challenges.
Would you recommend working in this role? Please give your reasons.
Absolutely. Fraud Prevention requires an analytical mind to understand patterns and trends, it's interesting to see how technology evolves in a short space of time. My role requires speaking with people from around the world and across different departments and areas of expertise, which is a great way of building your knowledge base and perspectives on business challenges.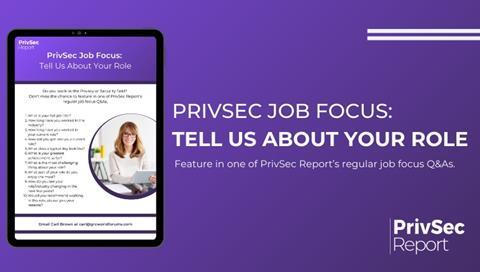 Do you work in privacy, security or data protection? Don't miss the chance to feature in one of PrivSec Report's regular job focus Q&As.
We are looking for people who work in privacy, security and data protection roles and those who work in related legal and regulatory fields across a range of industries to tell us about their everyday job.
Just fill in our short Q&A (see questions below) and submit a photograph to be considered for inclusion. We want to feature people of all levels of seniority.
If you want to take part, email Carl Brown at carl@grcworldforums.com