Our flagship event series #RISK is where the whole 'risk' community comes together to meet, debate, and learn, to break down silos and improve decision-making.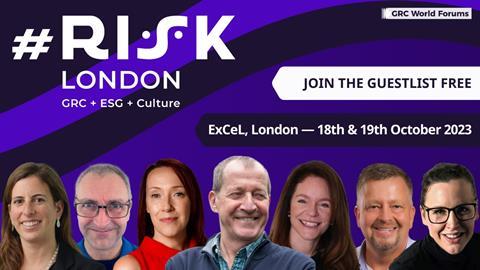 Technology is at the center of every core business process within modern organizations and #RISK London is a content rich Expo centred around seven key themes.
#RISK Content Zones include Privacy & Data Protection, ESG, Security, Financial Crime, Fraud, Loss Prevention, and Governance, Risk and Compliance.
At the inaugural #RISK in November 2022 we discovered that our attendees were visiting as groups and even using the event as a meeting point to catch up with colleagues from different departments.
Our mission is to continue to build on the success of #RISK 2022 and provide a platform that allows organizations to address the cumulative nature of risk, unite disparate GRC specialties and create a compelling 'deep dive' agenda led by subject matter experts and thought leaders.
#RISK London 2022 Highlights Video
#RISK series
Book Your Tickets For #RISK London Today!
"Best show we've ever exhibited at" #RISK
The feedback from exhibitors and visitors has been phenomenal:
"Knocked it out of the park!"

#RISK Exhibitor
It's been an amazing two days at #RISK"

Exhibitor at #RISK
"It's truly been a pleasure and we look forward to next years' events."

#RISK Exhibitor

Interested In Exhibiting?
Commit early to get a better ROI…