In this webinar we will explore the changing nature of terrorism financing and the ways in which violent extremist groups are raising, using and moving their funds.
We will also provide practical tips for practitioners, including the role of open source intelligence in assessing, detecting and reporting on TF risks.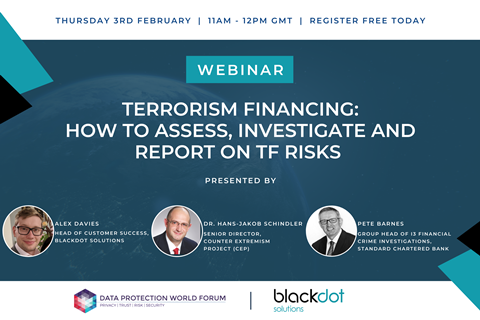 Webinar Summary:
Thursday 3rd February
Event Timings:
GMT: 11am - 12pm
CET: 12pm - 1pm
• Twenty years on from 9/11, efforts to mitigate terrorist financing are having a limited impact.
• Obligated institutions such as banks are required to identify and report possible patterns of terrorist financing (TF) activity with the aim of excluding terrorists from the financial system. However, the shifting nature of TF behaviour means that spotting it is like a 'needle in a haystack'.
• In this webinar, we will discuss how investigators in financial institutions can improve their ability to assess, investigate and report on TF risks. We will start by examining the latest trends and typologies, will move to an assessment of the challenges faced by FIs and will finish by discussing how Open Source Intelligence (OSINT) can play a part in finding connections and information on individuals and organisations of concern.
Meet the Speakers:
Alex Davies
Head of Customer Success, Blackdot Solutions
Alex joined Blackdot in 2013 and has played a key role in shaping the development of Videris. He has extensive experience using Videris to answer a wide range of investigative questions for an array of blue chip clients. He now leads our customer success function, using that experience to help our customers leverage Videris and apply it to their complex investigations.
Dr. Hans-Jakob Schindler
Senior Director, Counter Extremism Project (CEP)
Dr. Hans-Jakob Schindler, is Senior Director of the Counter Extremism Project (CEP), a New York and Berlin-based nonprofit organisation focused on educating the public, policymakers, the private sector and civil society about the threats posed by extremist ideologies. CEP also formulates programs to sever the financial, recruitment, and material support networks of extremist groups and their leaders.
Pete Barnes
Group Head of i3 Financial Crime Investigations, Standard Chartered Bank
Pete Barnes is Group Head of Financial Crime Investigations at Standard Chartered Bank. He oversees significant Financial Crime investigations across the Bank's global footprint. Pete also leads the Bank's involvement in the UK's financial Information sharing project, the Joint Money Laundering Intelligence Taskforce.
Pete has over 26 years of police and industry experience. During his 18 years in the Metropolitan Police he managed the intelligence and disruptions function of the National Terrorist Financial Investigation Unit, introduced cross border cash smuggling initiatives, and was commended for his work in disrupting multi-million-pound drug smuggling operations. More recently he established and managed a European Intelligence and Investigations capability at Western Union, where he pioneered work on financially profiling foreign terrorist fighters.