Two live and on-demand livestream experiences, brought to you by GRC World Forums will get underway this morning.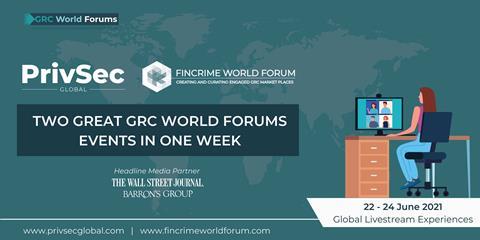 The three-day livestream experience PrivSec Global and FinCrime World Forum, which takes place over two days, will bring together leading experts from around the globe to address the fragmented privacy, cyber, and AML challenges worldwide.
PrivSec Global
In addition to keeping you up to date with the latest developments, strategies and insights across data protection, privacy and security, PrivSec Global June will feature new topics including; Regulatory Developments; Third Party Risk Management; Digital Transformation; Trust; Politics, Economics, Social; and Diversity and Inclusion.
Kicking off at 7:00am BST, here are some must see sessions for Day One:
GDPR Requirements and Digital Transformation, Stream 1, 8:00am BST | 9:00am CEST
Third Party Risk Management under GDPR: Ownership and Risks, Fines and Solutions. Sponsored by ProcessUnity, Stream 2, 9:00am BST | 10:00am CEST
Keynote: Ciaran Martin, Founding CEO of the National Cyber Security Centre, Stream 1, 11:00am BST | 12:00pm CEST
Schrems II and International Data Transfers: The Journey to a new Privacy Shield and Who Is Leading the Way, Stream 1, 12:00pm BST | 1:00pm CEST
Vaccine Passes: The Tech, The Law and the Importance of Data Protection and Privacy - Sponsored by Exterro, Stream 1, 4:00pm BST | 5:00pm CEST
Americas Focus: USA and the Developing Nature of Privacy Law - Sponsored by Groundlabs, Stream 2, 5:00pm BST | 6:00pm CEST

FinCrime World Forum
As the financial crime landscape evolves, the growing threat to firms and their customers is undeniable. FinCrime World Forum brings together a globally engaged audience to discuss, challenge debate and address how we can make the world a safer place.
Kicking off at 8:00am BST, here are some must see sessions for Day One:
A Talk on the Wild Side - A conversation on the Wildlife-FinCrime nexus with John Scanlon, 8:00am BST, 9:00am CEST, 3:00pm HK
Putting Corruption on Notice Bill Browder in conversation with Oliver Bullough, 9:45am BST | 10:45am CEST | 4:45pm HK
Above the Law? The challenge of bringing financial criminals to justice, 1:10pm BST | 2:10pm CEST
Biden's Radical Agenda? Jim Richards on the Implications for the Fight Against FinCrime, 5:45pm BST, 12:45pm CEST
Register now to join the livestream experiences: