At PrivSec Global today, a panel of experts explored the technology and the importance of vaccine passes to our world in this new normal.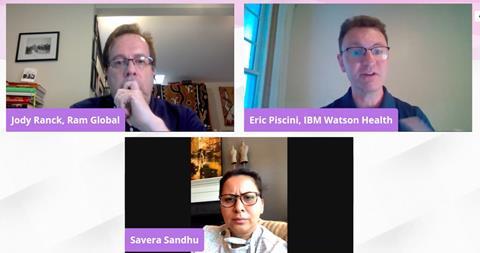 This session, led by Jody Ranck, DrPH, Senior Analyst at Chilmark Research and EVP Global Health Strategy, Ram Global, emphasised the stress for privacy with Savera Sandhu, Partner, Newmeyer Dillion, saying:
"Individuals are going to be concerned that if they have simply their vaccination record on-hand through an app, that somehow that may also trigger the information that is leaked out and connected to by hackers on individuals…"
Speaking on the difference between the paper pass regarding vaccinations and vaccine passes, Savera added:
"One can make the argument that in order to provide protection, safety, and the wellbeing of its citizens, that vaccination records are to be given appropriately. In terms of paper vs tech, the world is moving towards tech…there's a number of ways in which correct information that can be protected, used, shared, transferred available."
Eric Piscini, Global VP, Payer and Emerging Business Networks, IBM, explained that it is more convenient to carry medical information, including vaccine passes, on a phone stating if the information was lost it still could be recovered.
When discussing cybersecurity solutions to protect Vaccine Passes, Eric said:
"We need to trust that the custodian of the data, the provider or the doctor etc, are doing the right thing to protect this information…this is the first layer of trust. The second is how do we access this information and store it on your phone and make sure the information is protected."
Eric added that on his platform they ensure that the transfer of data is encrypted and to access an individuals phone, multi-factor authentication is deployed.
"The third layer is that we need to make sure that when we share the information from your phone to someone else, that transfer of information is also protected and secured." This can be done through the verification of blockchain.
When talking about social rights, Savera explained how on social media individuals are posting about their privacy and social rights, adding that social media is causing a spread of misinformation about vaccine passes.
"It's a question of whether or not, it's a violation of human rights, one can make the argument that those who are not economically or educationally available or are understanding, will be hindered from activities and travel. So one can make the argument that if you're sitting as a socio-economic class that can't get access to it readily or doesn't know about access, then yes."
PrivSec Global
Tomorrow PrivSec Global will be hosting "WFH and Data Protection: The Increasing Impacts of Covid-19 and What Comes Next?" at 2:00pm BST | 3:00pm CEST.
Register now to tune in.