The awards ceremony took place at the Grosvenor House ballroom in London. It featured keynotes by Vivienne Artz OBE and Liberal Democrat peer Lord Clement-Jones CBE, plus a virtual message from Information Commissioner John Edwards.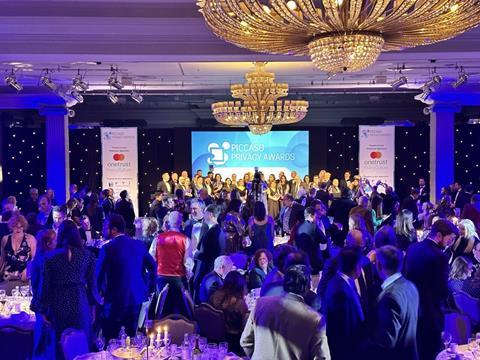 Recognition is long overdue for privacy professionals working in this fast-growing and ever-changing sector. With technology and data playing an increasingly integral part in every facet of society, the PICCASO Awards celebrate those working so hard to keep personal data safe and support trusted innovation.
From over 140 finalists, 19 winners were selected by a judging panel that included, among others, Elizabeth Denham CBE, former UK Information Commissioner; Stewart Dresner, Founder and Chief Executive of Privacy Laws & Business; and Joe Jones, Deputy Director, International Data Transfers at the Department for Digital, Culture, Media and Sport (DCMS).
All PICCASO Privacy Awards finalists were individuals and organisations across all sectors at the forefront of advancing privacy thought leadership and innovation in data protection.
Vivienne Artz OBE, Vice-Chair of PICCASO said "Congratulations to the winners of the inaugural PICCASO Privacy Awards - you are our role models and inspiration for everyone in the privacy sector, well done!".
After a drinks reception, speeches and dinner, the winners were announced:
Best Educator: Michael Fortune, Senior Manager Data Behaviours & Culture, BT Group Plc

Best Innovative Privacy Project: CSI-COP Project Team, Coventry University

Best Privacy Culture Improvement Award: RX Global

Best Privacy Programme Award: Chris Frampton, Data Protection Officer UK&I, Tata Consultancy Services Limited

Bridging the Privacy and Security Gap Award: Royal Mail, Think Secure Programme

ESG Privacy Initiative: Walsall Metropolitan Borough Council

Most Impactful Privacy Product of the Year: Zivver

Outstanding DPO: Lesley Holmes, Data Protection Officer, MHR International UK Ltd

Privacy Award for Achievement: Rosemary Jay, Senior Consultant Attorney, Hunton Andrews Kurth LLP

Privacy Champion: Robert Baugh, CEO, Keepabl

Privacy Executive of the Year: Joao Barreiro, Chief Privacy Officer (Global), BeiGene

Privacy Team of the Year: Lidl GB Data Protection Team, Lidl GB

Privacy Writer/Author: Nader Henein, Research VP - Data Protection and Privacy / DEI Chair, Gartner

Rising Star Award: Rodica Cararus, Privacy Compliance Analyst, S&P Global

Privacy Leader of the Year: Technology: Ivana Bartoletti, Global Chief Privacy Officer, Wipro

Privacy Leader of the Year: Public Sector: Glen Hymers, Head of Data Privacy and Compliance, UK Cabinet Office

Privacy Leader of the Year: Legal: Katie Hewson, Data Protection Partner, Stephenson Harwood LLP

Privacy Leader of the Year: Consulting: Hellen Beveridge, Senior Manager Data Responsibility & Global Privacy Delivery, Cognizant

Privacy Leader of the Year: Academic: Dr Vasileios Karagiannopoulos, University of Portsmouth
A huge congratulations to all the talented finalists and winners at the first of many PICCASO Privacy Awards.