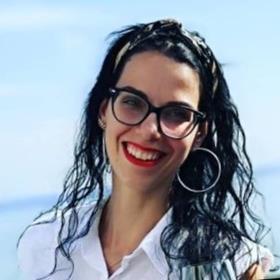 Taking place at RAI Amsterdam on September 27 and 28, #RISK Amsterdam examines the trends and best practices organisations are employing to navigate today's rapidly evolving risk landscape.
Gabriella Rudolf is Total Rewards Manager at Under Armour. She is a passionate professional dedicated to revolutionising total rewards programmes for enhanced employee wellbeing.
Leverage extensive expertise in creating customised plans, Gabi brings innovation, and hands-on experience to unleash organisation's full potential.
Gabriella will be at #RISK Amsterdam to discuss employee wellbeing and to explore ways in which organisations can create happier, healthier working environments.
Related Session:
Why Workplace Wellbeing Matters and How to Do It - Wednesday 27th September, 13:00 - 14:00pm (CEST) - Privacy, Security & ESG Theatre
BOOK YOUR PLACE AT #RISK Amsterdam
We spoke with Gabriella about her professional journey and for an introduction to the themes on the table at her #RISK Amsterdam session.
Could you briefly outline your career so far?
I started my career at Microsoft as an HR intern during my Bachelor's studies, and my passion has grown into maximising the benefits and total rewards programmes.
Since then, in my 12+ year career in HR, I have worked and run benefit programmes globally in many different industries, from tech to start-ups and retail. I support organisational needs to take the next step in employee satisfaction and retention.
With my hands-on approach, I bring an innovative and strategic perspective to create customised plans that drive results driven by data-led decisions. My expertise in people management and strategic thinking allows me to tailor solutions that meet the unique needs of the organisation. I had the honour to receive the Reward 300 Award in 2023, which is a great milestone and acknowledgement from the industry.
How has our idea of worker wellbeing changed over the past five years, and what does it mean today?
From office-based benefits such as onsite massages to free food, the world of benefits drastically changed during Covid.
Since the pandemic, focusing on mental and financial wellbeing has never been more important. Encouraging teammates to learn about finances and prioritise their mental health is key for companies.
More organisations have started to introduce wellbeing and mental breaks, or "Zoomless" days, to overcome Zoom fatigue. Now, with hybrid workplaces arising, the new challenge will be how to motivate employees to get back to the office. Moreover, the culture of the company has had and will have a huge impact on employee wellbeing. Employees want to work to live, not the other way around.
What can organisations do to create happier workspaces?
Build a strategy around pre-emptive actions rather than case-by-case firefighting. Focus on tailoring flexible benefits to employees needs based on personas and relying on numbers that help make decisions.
Celebrate wins and create a safe environment for the employees where they feel they are listened to and the employer is inclusive regardless of their background, ethnicity, or religious views.
Utilise gamification and think outside the box! Lastly, I believe that one of the most important actions is leading by example. Leadership, but overall, all employees have a crucial role in a workspace to make this happen!
Don't miss Gabriella Rudolf examining these issues in the #RISK Amsterdam panel debate: "Why Workplace Wellbeing Matters and How to Do It".
Happy employees are more creative, more productive, and less likely to engage in disputes or make complaints. And of course, treating people well is the right thing to do.
But how far is an organisation responsible for the wellbeing of its employees? And how can people at all levels of the company contribute to a happier working culture?
This session will explore the benefits of workplace wellbeing and consider the practical steps you can take to foster a happier organisation.
Also on the panel:
Details
Session: Day 1, Why Workplace Wellbeing Matters and How to Do It
Theatre: Privacy, Security & ESG Theatre
Time: 12:00 – 13:00pm (CEST)
Date: Wednesday 27 September 2023
#RISK Amsterdam is also available on-demand for global viewing.
Book Your Place at #RISK Amsterdam