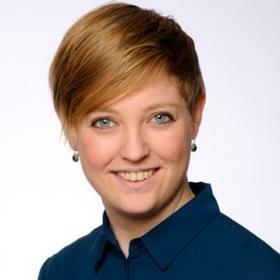 Taking place at RAI Amsterdam on September 27 and 28, #RISK Amsterdam examines the trends and best practices organisations are employing to navigate today's rapidly evolving risk landscape.
Freya de Mink is Business Development & Healthcare Lead at Roseman Labs. A fast-growing Dutch privacy tech provider, Roseman Labs enables organisations to collaborate without exposing sensitive source data, with a software solution based on multi-party computation (MPC).
In her role, Freya is focused on commercial development and solutions for health and healthcare. She has a background in strategy consulting at Boston Consulting Group, and holds an MBA from London Business School.
Freya will be at #RISK Amsterdam to discuss the technologies on the horizon that organisations should prepare for, and how these technologies can be implemented to best effect.
Related Session:
Emerging Privacy-Enhancing Technologies (PETs): What Works - Thursday 28th September, 12:00 - 13:00pm (CEST) - Privacy & Security Hub
BOOK YOUR PLACE AT #RISK Amsterdam
We spoke with Freya about her professional journey and for an introduction into the themes on the table at her #RISK Amsterdam session.
Could you outline your career pathway to date?
My career started at the Boston Consulting Group in 2015, where I joined with a degree in musicology and gender studies. In 2022, I completed an MBA at London Business School.
During my years at BCG, I worked on strategic topics across a range of sectors and got increasingly interested in advanced data science solutions. I experienced first-hand how lack of data can be an inhibitor for value creation, for example in the context of value-based healthcare. Protecting privacy is a must, especially when sensitive data is involved.
At the same time, high value often lies in combining and working with data from different sources. Since joining Roseman Labs in 2022, I have a found a solution for this challenge and my job is to help grow the adoption of our collaboration software among healthcare organisations.
What are the main privacy enhancing technologies (PETs) that organisations will be adopting over the coming 12 to 24 months?
In today's area of secure data collaboration, Multi-Party Computation (MPC) offers without doubt the strongest combination of privacy properties and broad analytics features for substantial data sets.
While hardware-based techniques (such as Trusted Execution Environments) continue to reveal vulnerabilities from a confidentiality point of view, other cryptographic techniques (in particular, Fully Homomorphic Encryption) are facing very high computing costs and are not ready for use on large datasets.
With leading organisations such as the Dutch National Cyber Security Centre using MPC to collaborate with more than one hundred organisations, I expect that more organisations will follow.
What are the primary benefits and challenges that adoption of some of these PETs present?
The primary motivation for organisations to consider PETs is that they want insights from data which they do not have. With MPC, organisations get the opportunity to combine and analyse data, without exposing the underlying records. This opens the door to using sensitive data sources which would otherwise be inaccessible.
Challenges that I have seen are what you could expect among adopters of a cutting-edge technology: it takes time to explain and build trust among stakeholders. These include privacy officers, security specialists and data experts.
A great help in this regard is that increasingly, large organisations such as the United Nation, EU commission and data protection authorities publish guidelines and recommendations around working with PETs.
Don't miss Freya de Mink exploring these issues in depth in the #RISK Amsterdam panel debate: "Emerging Privacy-Enhancing Technologies (PETs): What Works?"
Speakers will review the latest developments in PETs, and provide insight into the technologies that are currently available. They will also discuss the challenges and opportunities presented by PETs, and provide guidance on how organisations can implement these technologies effectively.
Attendees will learn about the latest trends in PETs, and gain a better understanding of which technologies are most effective.
The session sits within a packed two-day agenda of insight and guidance at #RISK Amsterdam, taking place on September 27 and 28 at RAI Amsterdam.
The event unites thought leaders and subject matter experts for a deep-dive into organisational approaches to handling risk. Content is delivered through keynotes, presentations and panel discussions.
Details
Session: Day 2, Emerging Privacy-Enhancing Technologies (PETs): What Works
Theatre: Privacy & Security Hub
Time: 12:00 – 13:00pm (CEST)
Date: Thursday 28 September 2023
Also on the panel:
Gal Ringel, MineOS CEO and co-founder, MineOS
Rekana Isong, Regional Data Protection Officer & Senior Legal Counsel, Boehringer Ingelheim
Egoyibo Okoro, Head of Data Protection & Snr Data Protection Officer, Worldline Global
#RISK Amsterdam is also available on-demand for global viewing.
Book Your Place at #RISK Amsterdam