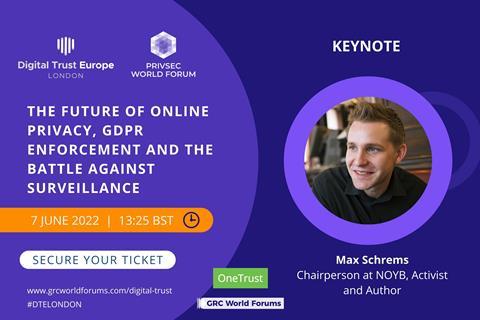 Taking place at Park Plaza, Westminster Bridge, London on June 7 and 8, PrivSec: World Forum sponsored by OneTrust is part of the Digital Trust Europe Series.
The two-day, in-person event brings together a range of speakers from world-renowned companies and industries, plus thought leaders and experts sharing case studies and their experiences, taking professionals from all fields to the cutting edge of data protection, privacy and security debate.
A pioneer of data protection and privacy
Chairperson at noyb.eu, Max Schrems is famous for campaigns against Facebook for privacy violations. Schrems held the social media giant to account for violations of European privacy laws, and for the alleged transfer of personal data to the US National Security Agency (NSA), as part of the agency's PRISM programme.
Today, the Austrian lawyer and author is widely known as a custodian of data protection and privacy thanks to his unrelenting efforts to bring both big tech and data protection regulators to account, all with the aim of upholding the rights of global citizens.
Max will be taking centre stage on day one at PrivSec: World Forum, in a keynote session that will cover topics of critical importance, including:
The future of online privacy
Making GDPR enforcement work
The battle against surveillance
Visitors will have the opportunity to get their questions answered in a live audience Q&A session following the keynote.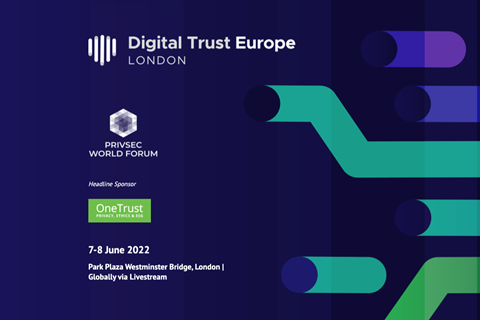 Don't miss Max Schrems speaking exclusively at PrivSec: World Forum.
Session time: 13:25 – 14:10 BST
Session: The future of online privacy, GDPR enforcement and the battle against surveillance
Date: Tuesday June 7, 2022
Venue: Park Plaza Westminster Bridge, London
PrivSec World Forum is also available on-demand for global viewing