With numerous state-based (California, Virginia, Colorado….) privacy regimes now in place, the mishandling of sensitive data won't be tolerated – by regulators or consumers. The challenge is: with mounting volumes of user created data under management, most of which is "dark", how can you protect what you don't even know you have?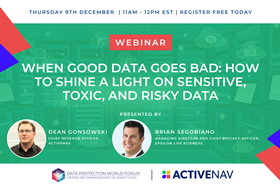 Webinar Summary:
Thursday 9th December
Event Timings:
EST: 11am - 12pm
PST: 8am - 9am
GMT: 4pm - 5pm
Data is fluid, and it needs to be treated as such. Companies have tried but failed to effectively map their data in the past but it has traditionally been looked at as a "point-in-time" exercise. Simply put, this doesn't work anymore. Manual, static, data mapping exercises are expensive, time-consuming, and don't accurately reflect the transient nature of data.
Having a comprehensive understanding of the location and sensitivity of information has become an organization's most pressing challenge, but new Data Mapping as a Service (DMaaS) solutions keep organizations abreast of their data as it changes in near real time. By leveraging the scalability of the cloud, data can be mapped in minutes, not days or weeks, providing visibility into diverse data sources for rapid, actionable insights.
During this webinar industry experts will examine:
• Data privacy, regulatory trends
• New ways of mapping sensitive and personal data for compliance at scale
• How continuous data mapping can support evolving compliance, security, and privacy requirements
Meet the Speakers:
Dean Gonsowski
Chief Revenue Officer, ActiveNav
As the Chief Revenue Officer for ActiveNav, Dean is responsible for orchestrating all go-to-market activities for the Sales, Marketing and Customer Success teams, with a goal of maximizing organization revenue and creating an exceptional customer experience. A former litigator, General Counsel and Associate General Counsel, Dean has more than 20 years' experience in litigation, e-Discovery, information governance and cybersecurity, driving growth at companies including Relativity, Recommind, Symantec, Clearwell Systems and Navigant Consulting. Dean participates on a number of industry standards bodies (like the Sedona Working Group) and is also the Founder of the agnostic industry forum: CTRL (the Coalition of Technology Resources for Lawyers) dedicated to create an open-sourced community for legal professionals.
Brian Segobiano
Managing Director and Chief Privacy Officer, Epsilon Life Sciences
Brian Segobiano is a Managing Director and leads the Data Privacy practice. Brian advises clients across jurisdictions and industries on building and operationalizing data protection programs to demonstrate compliance with laws such as the European Union General Data Protection Regulation ("GDPR"), California Consumer Privacy Act ("CCPA"), California Privacy Rights Act ("CPRA"), the Brazilian General Data Protection Law ("LGPD"), the Health Insurance Portability and Accountability Act ("HIPAA"), and other emerging US and international laws.
A Certified Information Privacy Professional ("CIPP/E") Brian serves as a third-party Data Protection Officer "("DPO") and supports clients with data mapping, data protection impact assessments, third party risk management, cybersecurity, individual rights, data transfer strategies, and governance & risk management software implementation. Brian serves as the Chief Privacy Officer for the firm.
Brian has extensive experience leading complex and data-intensive investigations helping clients and counsel collect, analyze and quantify disparate sets of structured and unstructured data to support mission-critical decision making and damage analyses. His experience in analytics and eDiscovery includes healthcare claims investigations, anti-money laundering, employment disputes, anti-kickback investigations, and mortgaged-backed security disputes.
Brian serves as the President of the Board for the Bloomington Knockers Youth Football and Cheerleading Program in Bloomington, IL. Founded in 1957, the program uses the sports of flag football, tackle football and cheerleading as catalysts to promote values of diversity, hard work and team work in over 300 athletes from Kindergarten through 8th grade.