Banks spend 250B USD on AML while only catching 1% of the proceeds from money-laundering which amounts to over 2.5 trillion USD every year. How can we move the needle and help banks protect themselves through the use of technology?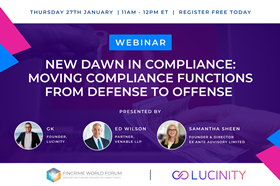 Webinar Summary:
Thursday 27th January
Event Timings:
ET: 11am - 12pm
GMT: 4pm - 5pm
Takeaway points:
• Productivity in compliance: What does it mean and why does it matter?
• How to maintain a continuous risk focused profile of customers?
• Undertaking more accurate and valuable horizon scanning or emerging risks across the business
• Fostering the concept of federated learning across the organization
Meet the Speakers:
Guðmundur Kristjánsson
Founder and CEO, Lucinity
Guðmundur Kristjánsson, more commonly known as GK, is a veteran in the compliance space. Before founding Lucinity, GK served as Director of Compliance Surveillance Technology at Citigroup. He was instrumental in charting Citi's path to AI in surveillance and responsible for a number of successful products across the compliance space. Before joining Citi, GK served as Director of Product Management at Nice Systems, building and delivering compliance systems to top-tier banks all over the world. GK has always been an entrepreneur at heart. At 14 years old, GK sold his first application, a software he made for himself to overcome the challenges posed by being dyslexic. Now he's moved on to Making Money Good at Lucinity by creating compliance systems for the modern world.
Ed Wilson
Partner, Venable LLP
Ed Wilson has built a unique perspective on financial crime-fighting issues through decades of experience in the public and private sectors. As a former senior attorney and offical at the White House and Treasury for eight years, Ed served a crucial role in establishing the US's regulatory framework for cambatting financial crime. He has been active within multiple organizations and areas across the broader regulatory spectrum, including OFAC, AML/BSA/CTF, FinCEN, FATF, OECD, UN Convetion, KYC matters, and more. This experience, compounded by serving in important government positions within the Excecutive Office of the US President and the White House Office, to name a few, gives Ed a profound insight into administration and regulations. He serves on Lucinity's advisory council.
Samantha Sheen
Founder & Director, Ex Ante Advisory Limited
Sam Sheen has worked for almost 15 years in the field of financial crime prevention. Her experience spans for working as MLRO, Data Protection Officer, Chief Compliance Officer to various roles at the Group level. Sam worked for several years as a regulator, overseeing the enforcement of AML/CFT cases and setting up the first AML/CFT supervisory division for the financial services regulator in Guernsey. Sam has worked for several years with innovative financial institutions, including FinTechs, e-payment institutions and VASPs, on how to embed regulatory requirements into their operational activities. An experienced trainer, presenter and content developer in the area of financial crime prevention, Sam also works with the European Commission in various capacities providing expertise, advice and support. Sam has a strong belief in the concept of "paying it forward" by encouraaging the sharing of knowledge and experience by other AML/CFT professionals and technology providers, and has supported this by creating a podcast she co-hosts with her professional colleague Marie Lundberge, called "Captivated Audience".