Fraud & Loss Prevention, brought to you by GRC World Forums, is a one-day livestream experience bringing together thought-leaders, experts and senior industry leaders to debate the latest issues surrounding fraud & loss prevention.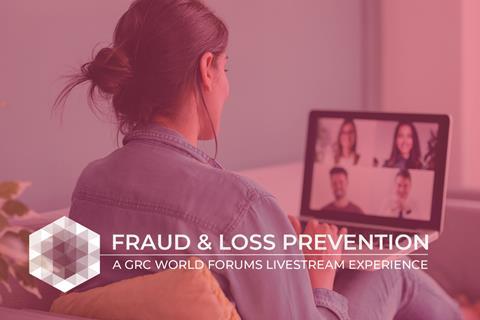 This is fast becoming a topic which is on the agenda for multiple teams within an organisation.
With new technologies launching and organisations adapting how customers engage with their brand, from advances in Machine leaning though to biometrics, fraud and loss prevention is an essential part of future-proofing businesses.
Fraud & Loss Prevention has a limited number of sponsorship opportunities that will enable you to reach senior leaders with direct responsibility of their fraud and loss prevention strategies.

8th December 2021
Half a Day
10+ Speakers
6+ Hours of Content
10+ Sessions
What will be covered?
Fraud & Loss Prevention will explore topics including:
Trends, challenges and the future of fraud and loss prevention
How to Build an Accurate Risk Profile
Re-Envisioning Corporate Governance to Fight Fraud
Building multi-disciplinary teams: The importance of collaboration between regulators, FI's and RegTechs.
Digital Forensics: Collecting data in a virtual environment
The Future of Digital Identity and access management
Strategic prevention: Predict not react
Fight fraud and friction with behavioural analytics
White Collar Crime
Exploring cloud technology: how do FIs protect client information?
How technology has influenced the talent pool and new and emerging ways of working?
From faking business practices to Deepfakes and Misinformation: How do FI's make sure they are dealing with legitimate organisations and individuals?
How can organisations avoid the common pitfalls of adopting new anti-fraud technology?