Day two of FinCrime World Forum begins with an investigation into the sheer scale and complexity of the financial crime crisis facing governments across Europe and beyond.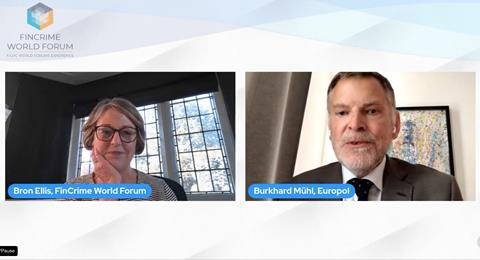 According to the 2021 Serious and Organised Crime Threat Assessment (SOCTA) from Europol, organised crime in Europe is more complex and fluid than ever, with criminals now as agile and collaborative as leading entrepreneurs in the tech sector.
Money Laundering has become equally sophisticated, with fraudsters concealing their activities within professional networks and legitimate business structures, isolating themselves from effective disruption by systemic corruption both within the private and public sector.
The result is deep-rooted illicit finance contaminating societies and economies worldwide.
Head of European Financial & Economic Crime Centre, Europol, Burkhard Mühl reflected on these enormous challenges this morning at FinCrime World Forum.
Burkhard Mühl said:
"Through our recent operational activities, we have much better intel and insight into the mechanics of organised crime operating in Europe. Little has changed in what drives criminals to join organised ventures, the profit motive shapes crime schemes and dictates risk/benefit considerations.
"While criminal motives have not changed, the structures they employ have undergone remarkable changes, underlining the agility and dynamic nature of organised crime. In short, the perception we've had in the past of the organised crime hierarchy has changed considerably."
Discussing the impact of Brexit on cooperation levels with Europol, Mühl said:
"The UK is having a lot of experience and highly skilled and qualified investigators, so I was interested to see how Brexit will impact on the landscape. We have legal possibilities to cooperate with the UK. I'm happy to say that the cooperation has not really been affected by Brexit, we continue to exchange operational information with the UK, so I do not see a dramatic change in our cooperation with the UK post-Brexit."
Touching upon the pandemic's impact on organised crime, Mühl said:
"We see an increase in fraud cases, counterfeiting of medical equipment and other signs that the criminal element is taking advantage of COVID-19. We have seen a rise in online fraud as people stay at home more. Criminals were quick in using this and exploiting this, pushing up cyber-criminality and online fraud generally. Today there is hardly any crime that doesn't involve an online element.
We see that criminals are attacking national recovery funds meant to support the economy in the COVID-19 crisis. In France, a case we supported in this regard, a national fund was fraudulently attacked. It's staggering that we have every week, almost, where we see over one million euros in cash being seized. Covid has changed the criminal landscape, and supporting member states in preventing fraud has become a priority for us."
Speaking of the organised crime landscape generally, Mühl said:
"Serious and Organised Crime has never been as diverse as it is today. 80% of reported criminal networks are involved in drug trade.
"At Europol four years ago we established Europol Financial Intelligence Public-Private Partnership (EFIPPP). As technology expands, in order to stay on top of developments we have to reach out to the private sector. Ad-hoc cooperation is something we'd like to promote in future."
Explaining how criminals managed their ill-gotten gains, Mühl focussed on the widespread practice of money laundering, saying:
"Money laundering schemes are highly complex, they require a professional knowledge to support operations – the big cases especially. ML is going on at several levels. When we talk about cases that involve millions and millions of euros in cash, those criminals need professionals to help them integrate money back into the system.
"Money brokers usually reside in financial centres around the globe, not in the EU and they provide their services remotely to avoid the threat of prosecution in the EU.
"There is traditional money laundering going on as we have seen it over the last decade and that will continue. We are trying to prevent money laundering by introducing legal obligations for the obliged entities to report suspicious transactions, to have compliance regimes in place, and this has improved the situation in regards to threats to our financial systems."
Missed a session? No problem - all sessions will be available on demand on grcworldforums.com