Today at FinCrime World Forum, award-winning investigative reporter and Financial Times investigations correspondent, Tom Burgis, discussed the inner workings of a growing global network of kleptocratic elites.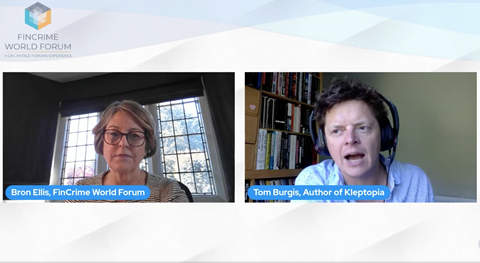 Burgis has exposed major corruption scandals, covered terrorist attacks, coups and forgotten conflicts, and traced dirty money from the Kremlin to Washington. His journalism has won awards in the US and Asia and twice been shortlisted at the British Press Awards, the British Journalism Awards and the European Press Prize.
In his exclusive keynote, "Fighting Kleptopia -A conversation with Tom Burgis, author of 'Kleptopia: How Dirty Money is Conquering the World", the award-winning investigative reporter and Financial Times investigations correspondent discussed the inner workings of a growing global network of kleptocratic elites.
Discussing kleptocracy, Burgis said:
"In west Africa, you really see the sharp end of corrupt globalisation and what it means for people's lives. A responsive government is one where those who have power do so with the consent of a majority of the people most of the time, broadly speaking; the people have a hold over those who rule in their name.
"Sadly, a large majority of countries in the world are run under a kleptocracy, whereby the purpose of political power is to loot – to buy loyalty and purchase legitimacy abroad. Someone such as Putin is a direct product of the kleptocratic bacchanal left over from Soviet Russia, after which enormous quantities of state assets then passed over to those that could grab them – a perfect recipe to create a kleptocracy, where economic benefits are fused with political control. Putin has the perfect setup and he's skilfully used this system, and he has exported that corruption."
"The revelation of the Trump era is how suddenly, politically, a kleptocrat can take over the US, that's exactly who Trump was. For decades before he became President, he was sustained by vast sums of money pouring through his many shell companies that came from kleptocracies.
"As a result, we have a recognition in the US that kleptocracy and corruption are a national security threat, which is what Biden has said. No such recognition has happened in the UK, or France, or anywhere in the countries in the West.
So why are anti-corruption methods failing?
"We are doing a hopelessly bad job of tackling kleptocracies. Risk factors do not provoke scrutiny from a bank in terms of who they do business with. This seems to suggest that our entire architecture of trying to shield the financial system from dirty money doesn't work. Lawyers, accountants etc. who are knowingly or recklessly accepting corrupt money and using it, and helping to hide it, are committing money laundering crimes," Burgis said.
"Such a large group of people are in contact or in very close proximity to jealously guarded secrets of the new corrupt order, that they can easily stumble into a life or death world. As we realise that the spread of kleptocracy means the spread of violent politics and violent business, so we realise that the risks are not limited to far off countries, these risks are present in London, New York, etc. and they are multiplying."
Looking at the broader kleptocratic landscape, Burgis said:
"I think there's an existential struggle between kleptocracy and democracy right now. Often, we have the debate about this as though we're talking within a corporate social responsibility sphere, whereas we're talking about the great geo-political discussion of our time.
"We have to go back to the fundamental ability to move money anonymously. A public registry of the true owners of companies, is an essential part of combatting corruption.
"There is a fundamental flaw in the global economic system, which is the ability to use and move money anonymously. We have to fundamentally address whether economic activity should permit anonymous activity at all.
"The currency of kleptocracy is anonymous money."
Missed a session? No problem - all sessions will be available on demand on grcworldforums.com