In this webinar, we will shine a spotlight on environmental crime: one of the 22 crimes named in 6AMLD's expanded list of predicate offences.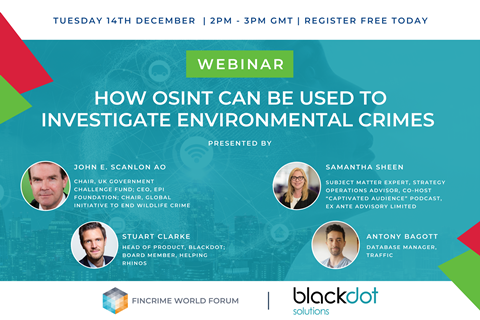 Webinar Summary:
Tuesday 14th December
Event Timings:
GMT: 2pm - 3pm
CET: 3pm - 4pm
Prominent financial crime expert Sam Sheen will lead a panel of experienced practitioners offering practical examples of how to use open source intelligence (OSINT) to investigate and understand crimes such as wildlife trafficking. We will also explore the real-world impact and highlight the importance of ensuring that financial crime investigations teams are given the right tools for preventing environmental crime.
Meet the Speakers:
Stuart Clarke
Head of Product, Blackdot and Board Member, Helping Rhinos
Stuart is an internationally respected investigations and cybersecurity expert with extensive business management, consultancy, and leadership expertise. He has advised the United Nations' peak cybersecurity body ITU and led the product strategy of several award-winning cybersecurity and investigation solutions at Nuix. Stuart has contributed to professional textbooks covering evidence preservation as well as publishing several industry-recognized white papers in the areas of Investigations, cybersecurity and GRC, including a recent global survey of regulators exploring Investigation best practice. Stuart is a passionate conservationist and a board member of Helping Rhinos, a charity fighting to save rhinos from extinction.
Antony Bagott
Database Manager, Traffic
Antony Bagott has a background of more than 12 years of working with data, including an extensive experience in collecting, analysing, and managing information within the non-profit sector. Antony has successfully managed TRAFFIC's Wildlife Trade Information System (WiTIS) since 2018, with the aim of building a comprehensive and reliable knowledge base that forms the foundation of the "Evidence to Influence" approach within TRAFFIC's conservation strategy. His time at TRAFFIC has also allowed him to work with a number of other databases, supporting the development of repositories such as the Elephant Trade Information System (ETIS) and the Trade in Wildlife Information Exchange (TWIX) tool, in addition to successfully creating and launching the highly successful Wildlife Trade Portal. The information stored in these databases is used by NGOs, researchers and law enforcement agencies around the world to ensure that trade in wild animals and plants is not a threat to the conservation of nature.
John E. Scanlon AO
Chair | CEO | Chair, UK Government Challenge Fund | EPI Foundation | Global Initiative to End Wildlife Crime
John served as Secretary-General of CITES from 2010-2018, during which time he launched the International Consortium on Combating Wildlife Crime. He is now Chief Executive of the Elephant Protection Initiative Foundation, Chair of the Global Initiative to End Wildlife Crime and Chair of the UK Government's Illegal Wildlife Trade Challenge Fund. John has worked in the private sector, in government and in senior positions with IUCN and UNEP. He holds a Bachelor of Laws, Master of Laws (Environmental), and is an accredited mediator. In 2019, John was awarded the prestigious Officer of the Order of Australia (AO) for distinguished service to wildlife conservation and protection through roles with international organizations.
Samantha Sheen
Founder & Director, Ex Ante Advisory Limited
Sam Sheen has worked for almost 15 years in the field of financial crime prevention. Her experience spans for working as MLRO, Data Protection Officer, Chief Compliance Officer to various roles at the Group level. Sam worked for several years as a regulator, overseeing the enforcement of AML/CFT cases and setting up the first AML/CFT supervisory division for the financial services regulator in Guernsey. Sam has worked for several years with innovative financial institutions, including FinTechs, e-payment institutions and VASPs, on how to embed regulatory requirements into their operational activities. An experienced trainer, presenter and content developer in the area of financial crime prevention, Sam also works with the European Commission in various capacities providing expertise, advice and support. Sam has a strong belief in the concept of "paying it forward" by encouraaging the sharing of knowledge and experience by other AML/CFT professionals and technology providers, and has supported this by creating a podcast she co-hosts with her professional colleague Marie Lundberge, called "Captivated Audience".