Boards of Directors must have a responsibility for environmental, social and governance (ESG) topics and be proactive in assessing their ESG reporting practices.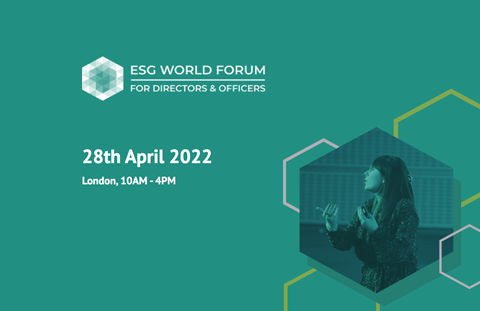 ESG factors will impact the sustainability and long-term success of businesses and the ESG accountability spotlight will be on directors & officers in 2022 and beyond.
All stakeholders, investors, customers, suppliers, staff, and regulators will require enhanced transparency of ESG targets and actions by directors and officers.
As organizations embrace and deliver on ESG monitoring and reporting worldwide ESG risk and reporting software revenues will more than double to more than $720 million in 2025 according to a recent IDC report.
Against this background, a wave of ESG risk management solutions is coming to market as a rapidly evolving segment of risk management software.
The increasing pressure for compliance and accountability means that ESG is becoming a central component of companies' governance and risk strategies.
ESG for Directors & Officers event will be led by leading industry and subject matter experts, with a deep-understanding of successful ESG strategies, and what it takes to achieve them.
Across the 6-hours attendees will have the opportunity to tap into the expertise of the speakers, and deep-dive into both societal and industry challenges and issues.
ESG for Directors & Officers
28th April 2022
London, 10AM - 4PM | Global Livestream available
This forum will
Show directors and officers how to simplify their ESG measurement, management, and disclosure programs.
Consider the benefits of implementing well-recognized standard frameworks.
Identify and explore which factors are important.
Advise on integrating policies into decision making processes and compensation plans.
Help attendees understand potential liabilities and disclosures.
Focus on the commitment to ESG not just a matter of compliance, but improve bottom lines.