According to legendary marketer, Seth Godin "The digital asset that matters is trust. Awareness first, then interaction, and maybe a habit, but all three mean nothing if they don't lead to permission and trust. The privilege of connection. Everything else is slippery."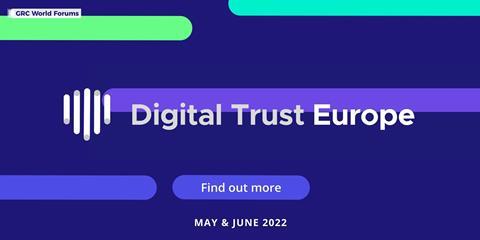 Security, financial crime, resilience, fraud, loss prevention, operational risk, privacy, and data ethics are becoming increasingly intertwined in our digital and data-driven world and a robust governance, risk and compliance framework is a critical component to building and maintaining trust.
The acceleration of digital transformation driven by the pandemic, the rise in social activism with movements such as #MeToo and Black Lives Matter, the focus on the impacts of climate change, the challenges of rolling out under regulated AI initiatives all have significant impact and, in many cases, unintended consequences when technology collides with society.
To innovate with speed and confidence, organisations need to address all the above with integrated solutions, with a unified vision and with collaboration rather than a 'silo mentality'.
Cisco has recently published what it calls its 'New Trust Standard', a benchmark for assessing an organisation's trustworthiness -
Harvey Jang, Cisco's Chief Privacy Officer said,
"Transparency, clarity, and control are integral to building and maintaining consumer confidence."
Zubin Randeria, Lead Cyber Security Partner, PwC United Kingdom says;
"Business today is digital. Leaders who recognise that safety, security, reliability, privacy, and data ethics are the five defining strategic assets of the digital age are those who will create distinctive organisations with enduring value. This is what we call Digital Trust."
Marius von Spreti, Partner, Leader Cyber Risk, Deloitte said;
"In times of ever-accelerating digital transformation, trust remains the foundation and the only compass we have on our path to the future. We need to get this right and build digital trust in everything we do."  
Against this background GRC World Forums has announced the launch of digitaltrusteurope.com taking place in May & June 2022 as in-person events and global livestream experiences.
Nick James, CEO of GRC World Forums says; "We are extremely excited to launch this initiative and be able to bring all of our brands, our community, our network of global subject matter experts and thought leaders together in three major cities across Europe. Whilst amplifying and sharing, the message, insight and expertise globally via a livestream and on-demand experience."
"We are all having to navigate new challenges as we enter the post pandemic era and Digital Trust Europe will present a curated programme and content-rich schedule of keynotes, panel debates and presentations that will address the major part that governance, risk, compliance professionals and business leaders have to play."
"Delegates will learn from global corporations, policymakers, regulators, and innovative thinkers. Perceptive insight, facilitated learning and information sharing committed to achieving 'Digital Trust'."
All under one roof
The below events will be co-located at each Digital Trust Europe city:
Amsterdam - 18 & 19 May 22
London - 7 & 8 June 22
Dublin - 28 & 29 June 22
PrivSec World Forum
Financial Crime World Forum
ESG World Forum
Cloud Modernisation Summit
VISIT DIGITAL TRUST EUROPE 2022
GRC World Forums has welcomed over 200,000 professionals to 'virtual' events since March 2020 and prior to Covid 19 produced high profile 'in-person' events in, London, New York, Dublin & Europe.