Max Schrems, renowned privacy rights activist and honorary chairperson of NOYB, will be giving an exclusive keynote at PrivSec Amsterdam on 27 September 2022. This timely session comes as:
Regulators across Europe crack down on non-compliant data transfers and violations of the "Schrems II" ruling

The European Commission and the US negotiate a new data transfer framework—which Schrems says he will challenge "within weeks" of its taking effect

Meta receives the second-highest ever GDPR fine for violating rules on children's data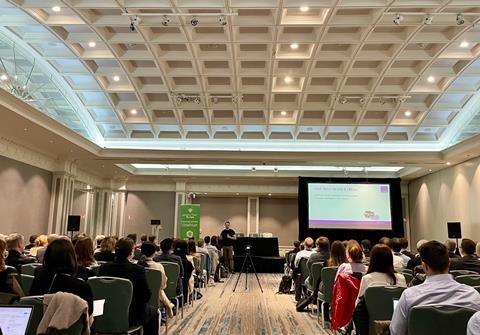 Few are better placed to comment on the future of online privacy, GDPR enforcement, and surveillance than Max Schrems, whose cases against Facebook have brought down two international data transfer frameworks and shaped digital policy across Europe.
Secure a complimentary ticket to attend this session
Conflict with the EU fundamental right to privacy
In June, Schrems gave a presentation at PrivSec World Forum in Dublin looking at the origins of the EU-US "data transfer saga". He described the conflict between US surveillance law and the fundamental right to privacy in the EU.
"Fundamentally the European Union demands privacy as a fundamental right," Schrems said, "And the US FISA requires surveillance instead.
"This means a clash, and there's no room for more laws, so we have to limit one of these jurisdictions if we ever want this to work."
Schrems gave his perspective on the replacement for Privacy Sheild, the EU-US data transfer scheme that was invalidated in 2020 following his complaint against Facebook.
"We're now onto the latest solution, the new EU-US Framework. This says that: the Privacy Shield stays; there's going to be an executive order to introduce 'proportionate and necessary actions' and they want to put proportionality in the Executive Order; they also want a Data Protection Court."
Schrems also indicated that NOYB was already planning to challenge the new framework as soon as it was approved.
Hear from Max Schrems at PrivSec Amsterdam
On 27 September 2022, Schrems will appear at PrivSec in Amsterdam to deliver a presentation and audience Q&A. Schrems continues to fight for privacy, which he considers "the most unenforced right" in Europe.
Secure a complimentary ticket to attend this session
Other presentations, panels and keynotes at PrivSec Amsterdam nclude:
Is Google Analytics Banned in the Netherlands?

Breaking Down Barriers: How Data Protection and Security Teams Can Work Together

Consumer Trust and the GDPR's Transparency Requirements

Deep-Sea Phishing: Why is Phishing Gaining Sophistication and What Can Businesses Do?

Attracting the Female Leaders of Tomorrow in Data Protection and Data Security

International Data Transfers: Are Strict Transfer Rules Creating a "Splinternet"?
Speakers on the lineup include:
Soumya Patnaik, Lead Privacy Counsel, Philips

Jean-Hugues Migeon, Data Protection Analyst at European Space Agency (ESA)

Elza Ganeeva, Head of Government Relations, Russia, Ukraine and Eurasia, Zoom
Secure a complimentary ticket to attend this session
About PrivSec Amsterdam
Data protection, privacy and security are essential elements of any successful organisation's operational make-up. Getting these things right can improve stakeholder trust and take any company to the next level.
PrivSec Amsterdam will bring together a range of speakers from world-renowned companies and industries—plus thought leaders and experts sharing case studies and their experiences—so that professionals from across all fields can listen, learn and debate.
The event is a must-attend for data protection, privacy and security professionals who are keen to network, learn more, discuss and add expertise to how these sectors are interconnected.
PrivSec Amsterdam – RAI, Amsterdam
Tue 27 Sep 2022 8:30 AM - Wed 28 Sep 2022 6:00 PM