Online shopping giant Amazon says information requests from governments worldwide increased more than eight times in the second half of last year compared with the first.
Information requests via subpoenas, search warrants and court orders processed by the company totalled 27,664 between July and December, up from 3,282 in the previous six months.
"Amazon does not disclose customer information in response to government demands unless required to do so to comply with a legally valid and binding order," the company said in its bi-annual transparency report. "Amazon objects to overbroad or otherwise inappropriate requests as a matter of course."
Germany made by far the most requests to Amazon in the second half of 2020 at 11,735 (42.4% of the total). It was followed by Spain with 5,209 (18.8%), Italy 3,101 (11.2%), the US 3,060 (11.1%), the UK 1,181 (4.3%), France 857 (3.1%) and others 2,521 (9.1%).
Data demands on Amazon Web Services (AWS) went up 44.5% to 523, with the majority, 390 (74.6%), coming from the US.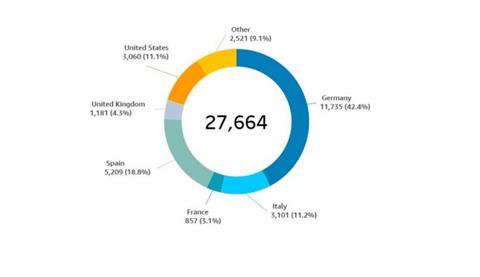 The company said it may produce non-content and content information in response to search warrants and court orders, but does not produce content information following subpoenas.
Amazon defines non-content information as basic subscriber information of name, address, email address, billing details, date of account creation plus some retail purchase history, and, for AWS, service usage information.
Content information includes data files stored in a retail customer's account, such as their photos, and, in the case of AWS, the content a customer transfers for processing, storage or hosting for services plus any computational results.
In addition, Amazon and AWS between them received between 0 and 249 requests in July to December issued under the United States' Foreign Intelligence Surveillance Act.
"Amazon reports the numbers of such requests within certain ranges permitted by law," the company said, stating its responses to those requests depend on their nature.