Next week, GRC World Forums will kick off Tuesday 8th September with two live and on-demand livestream experiences.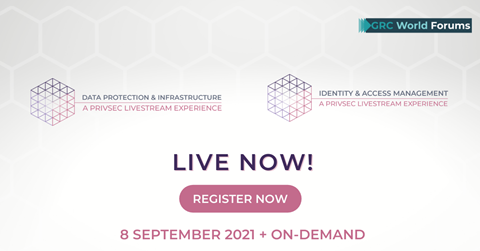 PrivSec Data Protection & Infrastructure and PrivSec Identity Access Management between them will feature 30+ subject matter experts, across 13 sessions producing hours of insightful and informative content available to you live and on-demand.
PrivSec Data Protection & Infrastructure - 8 September + on-demand
Discover how to implement and automate your data protection strategies, unify management and recover quickly & efficiently from threats whilst mobilising data and applications across hybrid cloud infrastructures.
It will also look at the evolving data protection, availability, and recovery sector providing end users with the latest information and advice on data protection in private, hybrid, and multi-cloud environments.
If you are a CIO, CDO, CISO, work within IT & Infrastructure, security/ cloud/ data engineering, disaster recovery / business continuity or a security leader this is a must attend event.

8 September 2021
1 Day
24 Speakers
8 Hours of Content
8 Sessions
PrivSec Identity Access & Management - 8 September + on-demand
Over the past 18 months, organisations around the world have seen acceleration of their digital transformation projects, this has however, created a set of new challenges that must be addressed in order to successfully manage identity and access management programs.
PrivSec Identity & Access Management will bring together subject matter experts and industry leaders as they outline how best to overcome IAM related challenges, how to best utilise it across organisation of all sizes and provide roadmaps to successful implementation and management of your IAM program.
This livestream experience will focus on the evolution of identity and access management, while also exploring its effects and relevance to blockchain, know your customer, self sovereign identity and much more.

8th September 2021
1 Day
15 Speakers
5 Hours of Content
5 Sessions