The latest UK Data Protection Index report reveals Data Protection Officers are expecting a larger increase in spending over the next year. We reveal which budget areas are likely to get a boost.
How confident are you that your organisation's overall data protection budget will increase over the next few months?
Amid surging business confidence in the wider United Kingdom economy, our exclusive research through the UK Data Protection Index shows Data Protection Officers are also increasingly bullish about the prospects of budgetary increases in their overall data protection budgets.
The UK Data Protection Index, produced by Data Protection World Forum and The DPO Centre, for the first time gives us a glimpse into the changing attitudes and sentiments of DPOs. Our panel of 334 DPOs are quizzed every quarter on the same set of questions.
One of the most striking findings from the March edition of the UK Data Protection Index report is the rise in confidence among DPOs that their organisations will increase their overall budget for data protection over the next 12 months.
Rising confidence
The percentage of respondents saying they expect an increase in their organisation's data protection budget risen from 38% (a) in November's survey to 44% in March. The average expected budget increase has now doubled from 5.11% in November to 10.42% over the same period. Conversely the percentage expecting a drop has fallen from 15% to 10%.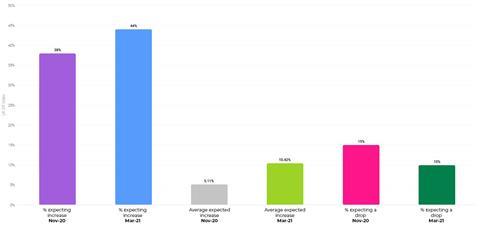 What can account for this increase in expected spend?
"After a turbulent time filled with uncertainty prior to the Brexit trade deal being agreed, businesses are now able to look to the future with far more confidence regarding the regulatory landscape and what is required of them to comply.

"For many businesses, therefore, now is likely to be a time of investment and progress towards compliance goals that were perhaps delayed due to the long drawn out Brexit negotiations, as well as the COVID-19 pandemic.

Rob Masson, Chief Executive of The DPO Centre
Extra money is always welcome but that then leaves the question on how to prioritise the additional spending.
Apply for DP Index Membership
The next survey results will be published in June 2021. If you are a data protection or privacy professional and you would like to join the panel and add your voice to future surveys, please apply for membership using the button below.
Spending priorities
We asked the UK Data Protection Index panel what they would make their highest spending priority if they secured a 20% increase.
The March index report showed an increase in the percentage of DPOs prioritising spend on staff training to nearly one in four (23%), up from 16% in November.
Masson suggests the shift to a distributed workforce is a driver behind this increase.
He says: "Training is always a key area requiring regular investment for all companies, however, this year in particular, training is likely to be more important than ever as our new remote way of working has thrown up a host of additional privacy considerations that employees need to be aware of.
"In addition, as we begin to see the back of COVID-19, now is the perfect time to be investing in data protection training as employees that have been on furlough, perhaps for over a year, return to the workplace.
There was also a five percentage point increase in respondents wanting to prioritise spend on privacy software and platforms, from 16% to 21%.
"Now is the perfect time to be investing in data protection training as employees that have been on furlough, perhaps for over a year, return to the workplace."
Masson says: "Over the last year it has become apparent that cybercriminals are becoming ever-more sophisticated in their methods, with even the biggest names such as EasyJet and Virgin Media falling victim to malicious hacking, and phishing campaigns becoming a daily occurrence.
"Businesses are therefore becoming increasingly aware of these incidents and the risks they pose; investing in appropriate privacy software is a simple way in which organisations can mitigate that risk."
The area of spend prioritised by most panellists remains 'additional interim resources', with 30%, although this dropped from 38% in November.
The index shows clearly that DPOs were much more hopeful of increased budgets in March then they were back in November, which may partly be due lifting of Covid-19 restrictions (lockdown measures begun to be eased on 8 March with the re-opening of schools).
But will this confidence continue to rise? In the next edition of the exclusive index report in June we will once again be asking the same questions and we will be bringing you analysis of the findings. Stay tuned.
Click here to read the latest UK Data Protection Index findings