The Women in Governance, Risk & Compliance (GRC) series opens in London at the end of April.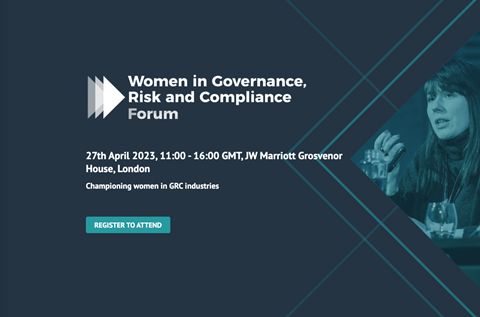 Taking place live at JW Marriott Grosvenor House, London on Thursday April 27, Women in GRC shines a light on women leading the way in Governance, Risk and Compliance.
Free to attend, the daytime Women in GRC forum comprises exclusive panel talks and interviews, with amazing female role models in the GRC space discussing issues such as gender diversity, women in leadership, cultures of equality, men as advocates, and much more.
Click here to see the full daytime forum agenda
Women in GRC Awards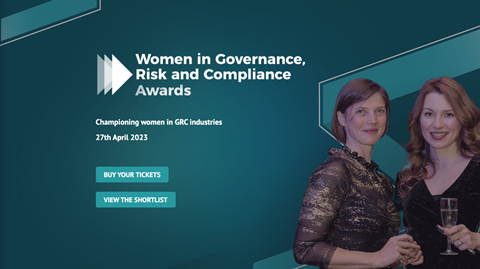 The Women in GRC Awards begins at 7:00pm and is a ticket-only event. The Awards brings together the 2022 finalists, judges, partners and special guests to celebrate and support women across GRC sectors.
Individual tickets include a drinks reception, three course meal with wine, entertainment and esteemed speakers, networking opportunities, an after-party invite, and more.
The Women in GRC forum opens at 11:00am, and includes the following sessions:
The Great Retention; Retaining Gender Diversity through to Senior Management Positions (11:00am - 11:45am)
Women's career opportunities may seem limitless today, but women remain underrepresented in positions of power: just 8% of Fortune 500 companies are led by women, and less than 1% by women of colour.
Panellists consider the patterns that are preventing women from leveraging their talents and share views on how to integrate equal opportunities to retain gender diversity from the top.
Panel Host: Lauren Chiren CEO & Founder, Women of a Certain Stage
Speakers include:
Navigating as an 'Outsider': Experiences from the World of Crisis Response, Fraud & Extortion (14:00 - 14:30)
Elspeth Roberston, Senior Consultant at Control Risks and Nicola Willison, Director of Business Operations at Control Risks discuss the role that gender has played in their professional experiences, and on a global landscape of crisis response, fraud and extortion.
The debate looks at how women can handle themselves in male-dominated settings such as kidnap or extortion negotiations; what we need to consider when investigating sensitive conduct issues; how to be comfortable "being yourself" in an "insider" industry, and more.
Attracting the Female GRC Leaders of Tomorrow (15:25 - 16:10)
Patricia González Ulecia Blanco Soler, Lead Privacy Counsel, Logitech hosts the day's final panel debate.
Encouraging more women to apply for more technical roles continues to be a challenge in all sectors – just 19% of those working in tech in the UK are female, a Tech Nation report finds.
Men are more likely to go for a technical role at a time when demand is rapidly growing for data science to become more inclusive and representative.
Speakers include:
Don't miss these exclusive sessions and much more at the daytime forum at Women in GRC.
Date: Thursday April 27
Location: JW Marriott Grosvenor House, London
Far more than just an award programme and conference, the Women in Governance, Risk and Compliance Series will be a year-round community for women of all backgrounds and their peers to support, collaborate and encourage via a number of content initiatives that will take place throughout the year.