Founder & President, Women in Finance and Investment Network (WIFIN)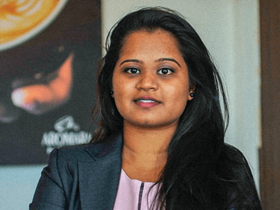 Dikshita Awotarowa is the Founder and President of Women in Finance and Investment Network (WIFIN), a non-profit organization dedicated to giving women the opportunity to receive the highest level of professional education, build credibility, and tap into a global network to pursue a rewarding career in the Finance and Investment industry.
Dikshita also currently works at the CGIA Institute, a professional body of Finance and Investment professionals. She holds the position of a Financial Markets Research Analyst at the Africa Regional Operations Office located in Accra, Ghana.

Her core duties entail researching potential leads in the finance and investment industry, coordinating activities between the Institute and Financial services companies in the region and communicating innovative ideas to promote the CGIA program, and engaging in investors meeting both locally and internationally.

Dikshita is a graduate from Curtin University with a first-class Bachelor of Commerce in Finance (Honours). She also holds a Bachelor of Commerce in Banking and Finance (Double major) from the same university. She is currently pursuing the CGIA qualifications and has already cleared Level 1 and Level 2.