Senior Project Manager & Implementation Consultant, Camms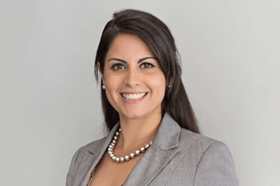 Carolina Price brings on-board over 10 years of experience within the GRC Software Implementation industry as a Project Manager and Implementation Consultant. She has a passion for her work, an eye for detail, and a deep understanding of client's needs. Carolina takes great pride in ensuring that customer's processes are applied into an effective business process within the software application solution.
Prior to joining Camms, Carolina was a Project Manager and Implementation Consultant where she acted as an internal and external subject matter expert for GRC software. Across her career, she took on the businesses largest and most complex client's base in both English and Spanish. In addition, she project managed and implemented clients from across all industries within the EMEA, LATAM, APAC and America regions. Carolina focused on all products and services including:
Third Party Risk Solution
Compliance and Enterprise Risk Management
Conflict of Interest
General Data Protection Regulation
Incident Management, including Health and Safety
Policy Management
Gift and Hospitality
Carolina attended Richmond, the American International University in London where she graduated with a BA (Hons) in International Business and Business Administration. Carolina also holds a GDPR Certification through GASQ.