Chief Technology Officer, Government Health and Safety Solutions/CMS Division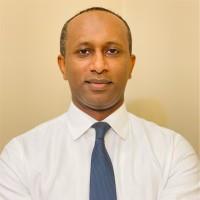 Extensive experience in design, development and delivery of large scale multi-million dollar enterprise systems. Yoseph has a passion for building intuitive big data applications integrating User Experience, Agile delivery and DevSecOps in cloud infrastructure.

Background includes Business and Enterprise Architecture, Project and Product Management as well as Systems and Process Improvement using Enterprise Architecture Frameworks and Lean Six Sigma. Yoseph is a certified Project Management Professional (PMP), Enterprise Architect (EA), Agile and Lean Six Sigma Practitioner..

Yoseph is recipient of the 2021 national award for "Disruptive Change Agent Shifting the Landscape" by G2Xchange for his leadership in transforming the US Federal Government technology landscape by delivering modern and high performance applications for use by the US Department of Health and Human Services (DHHS) .

Yoseph is an OKR Champion and coach helping organizations transform value based delivery.
Current Role
Company Name: Leidos
Job Title: Chief Technology Officer, Government Health and Safety Solutions/CMS Division
Start Date: February 2022
Company Industry: Information Technology & Services
Location: United States
We Are Leidos
For 50 years we have been tackling some of the biggest problems that face our nation and our world.
OUR MISSION Through our culture of innovation and history of performance, we develop deep customer trust built on integrity and create enduring solutions that improve our world. Leidos is a science and technology solutions leader working to address some of the world's toughest challenges in the defense, intelligence, homeland security, civil, and healthcare markets. The company's 43,000 employees support vital missions for government and commercial customers. Headquartered in Reston, Va., Leidos reported annual revenues of approximately $11.09 billion for the fiscal year ended January 3, 2020.
Leidos was cited for the meaningful work employees perform that is challenging, impactful, and aligned with our customers' missions as reasons professionals want to work and stay at our company. Leidos has also been named to lists including Forbes' Best Employers for Diversity, Forbes' America's Best Employers for Women, Military Times Best for Vets Employers, and Ethisphere Institute's World's Most Ethical Companies®.
Previous Company:
Company Name: TISTA Science and Technology Corporation
Job Title: Senior Program Director
Start Date: October 2019