Director, Treasury Services EMEA, BNY Mellon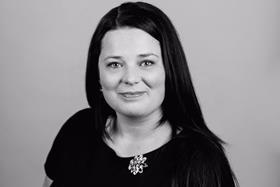 Adela represents BNY Mellon's Chief Administration Office for Treasury Services EMEA and is based in London. Her role includes regulatory oversight, control frameworks and governance. She also leads on business wide topics for SMCR, Conduct and Culture and participates in regional operational resiliency activities. In other words, Adela's role is part to the First Line of defense for the business. Recently, her focus has been on regulatory change and specifically payments related changes such as Payments Services Directive 2 (PSD2) and Open Banking.
BNY Mellon Treasury Services is a leading provider of global services designed to enable our clients to move money and associated information quickly, safely and reliably around the world. We combine diverse services into solutions to help streamline transactions; optimize cash flow; and manage liquidity, trade finance and payments more efficiently.
Prior to this role, Adela was part to the internal audit group and oversaw London Branch activities. She joined BNY Mellon in 2017 from GE Capital, where she spent over five years as EMEA Auditor and center of excellence lead for Enterprise Risk Audit, focusing on governance, prudential regulation, change management and strategy, restructuring, product risk and other areas across multiple business portfolios in retail, wholesale, investment management/wealth, project and syndicated finance. Qualified with Chartered Accountants Ireland for Risk, Internal Audit and Compliance with distinction, she spent over 10 years in internal audit roles with Barclays, Sumitomo Mitsui Banking Corporation and Philip Morris. During her career she also worked in second line risk functions and in credit underwriting. Cross functional experience gives her a good perspective on the operation of the three lines of defense model. She graduated from London Guildhall (London Metropolitan University) and FachhochSchule Frankfurt am Main in European Banking and Finance.
In 2019, Adela assumed the role of GENEDGE Chair for EMEA and together with the team focuses on cross-generational agenda and innovation. She is a qualified coach and is part to the Women in Banking and Finance mentoring scheme, working as a mentor for women in financial services. Due to her multicultural upbringing, Adela speaks six languages and continues to support model United Nations efforts.