CISA, CISM, CRISC, Msc, Associate Reserch Fellow, Americas Institute for Cybersecurity Leadership
Dr. Alexis Perdereaux-Weekes is a Data Privacy champion who believes that everyone should own, control, and determine the way their protected information is processed, collected, shared. A senior Global Data Protection & Cybersecurity Risk Leader with over 20 years of proven experience in Information Technology, Risk Management, Data Protection, Audit & Governance, and Compliance Controls within both regulated and non-regulated organizations across a diverse industry including Retail, Healthcare, Finance, Banking, Insurance, and local Government.
A strong believer in the "Theory of Reciprocity", Dr. Perdereaux-Weekes regularly mentors, and pays-it-forward through learning and speaking initiatives focusing on Data Privacy Protection, Regulatory Compliance governing the processing, disclosure, and management of consumer data.
Dr. Perdereaux-Weekes is co-founder of Cyberminds Research Institute, Inc a non-partisan think tank focusing on mitigating data privacy and cybersecurity risk through research. Additional he serves as an associate research fellow and member of the Cybersecurity and Information Privacy Policy Committee with the Americas Institute for Cybersecurity Leadership (AICL), a non-partisan think tank focused on cybersecurity discourse relevant to North America, Latin America, and the Caribbean. He is the immediate past-president and member of the executive leadership board for the ISACA South Florida chapter, member of the Technology and Innovation Steering Committee of the National Association of Health Services Executives (NAHSE) South Florida chapter, Project Management Committee of OUR ADDI. Member of International Association of Privacy Professionals (IAPP) and INFRAGARD (South Florida Chapter).
Dr. Perdereaux-Weekes holds credentials as an CISM - Certificated Information Security Manager, CISA - Certified Information Systems Auditor, CRISC - Certified in Risk and Information Systems Control, CDSPE - Certified Data Privacy Solutions Engineer from ISACA International, CPSP - Certified Payment Security Practitioner, CPFA - Certified Professional Forensic Analyst.
Dr. Perdereaux-Weekes holds a Master of Science degree in Information Security from Nova Southeastern University advance degrees in Information Security from St. Thomas University (Miami, FL) where he completed an Executive Doctorate in Business Administration with a focus in Information Security and Data Privacy.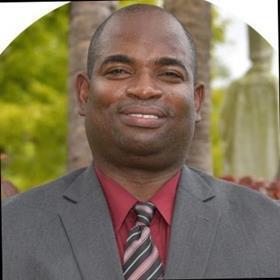 My Sessions
To Manage or Not to Mange: Reconciling Bring Your Own Device (BYOD) with the Corporate Network
20th April 2022, 14:00 - 14:45 GMT