PrivSec MENA is a one-day in-person forum taking place on 13 September 2022 at The Atlantis Hotel, Dubai.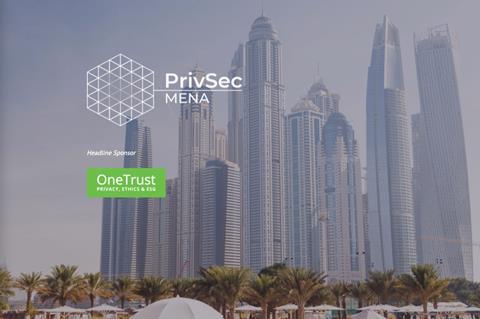 PrivSec MENA will welcome 300+ senior decision makers seeking the latest advice, guidance and information from leading subject matter experts, industry leaders and academics. Each theatre will have a programme of content addressing issues and challenges unique to the region, as well as addressing global issues that affect organizations wherever they are based.
PrivSec MENA will feature over 25+ expert speakers, who will participate in presentations, panel discussions and debates, delivering unique insights and actionable content to ensure attendees leave with valuable strategies and roadmaps.

13 September 2022
1 Deep-Dive Day
25+ Leading Industry Speakers
10+ Hours of Content
Lunch and Drinks Reception
Networking Opportunities
Why attend?
If you are an organization operating in this region, PrivSec MENA is a must-attend.
Our one-day deep-dive programme of sessions will deep dive into data protection, privacy and security issues which are relevant to you, plus a hand selected group of vendors will be available for you to explore technologies to help future-proof your business.
Benefits of attending:
Access a curated agenda, deep-diving into local, regional and global challenges and opportunities
Get up to speed on regional trends, technologies and topics that impact your business
Have your questions answered by leading experts from within your region
Discover fresh perspectives and understanding of how you can build competitive edge
Hear the views, insight and analysis of subject-matter experts, thought leaders and activists
Improve your awareness of the regulatory and compliance landscape in your region
Network with your peers throughout the Forum and at the exclusive drinks reception available to all attendees
Meet prospective suppliers split by sector, and discover technologies to future-proof your organization
And much more…
The return of live, in-person events
We can't wait to welcome you to PrivSec MENA - getting back to live, in-person events is essential for business, growth and personal development. It's been a long time coming, but finally we can get back to creating high quality, engaging, informative, collaborative in-person events.
We recently welcomed back over 400 attendees to our PrivSec New Normal event in London, and we were pleased too so many old and new connections being made.