Director, Public Affairs (Africa Region), The END Fund - Member, Working Group on Sustainability Mindset
Oyetola is a Business sustainability leader, and sustainable development expert. She is the founder of tengvoX professional services, a management consulting and advisory firm established to provide strategic direction to small and medium enterprises, and large corporations; on building sustainable organisations. She currently serves as a director of this organisation. She also sits on the board of trustees of some not-for-profit organisations registered in Nigeria.
In addition, Oyetola is a Director, Public Affairs at the END Fund – a developmental
organisation registered both in the UK and US, and which is committed to tackling the five most common neglected tropical diseases (NTDs). She is responsible for driving stakeholder engagement, advocacy and partnerships in Nigeria and other priority countries across Africa. The END Fund actively supports NTD programs alongside partners in over 25 countries, with a focus on the African continent.
Prior to delving into consulting and international development, Oyetola worked in various industries including financial services, energy, and telecommunications; and handled regional roles covering different markets. Combining her legal training with her broad private sector experience, and passion for Corporate Sustainability and Responsibility, she held progressively senior roles in the legal, corporate affairs, public policy, PR and CSR areas of specialization.
She is currently a Doctoral researcher at Warwick Business School, University of Warwick. She holds both Masters of Law and Bachelor of Law degrees, and was admitted to the Nigerian Bar in 2003.
Oyetola is fueled by a commitment to build a robust ecosystem of champions and advocates that will collectively drive the sustainable advancement of Africa and other growing economies around the world.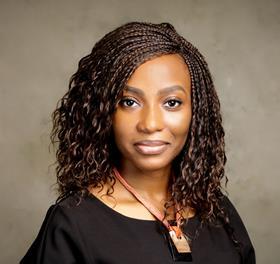 My Sessions
Keynote: Reaching U.N. Sustainability Goals
8 December 2021, 13:05 PM - 13:30 PM