Rory Stewart OBE is a headline speaker at #RISK, a two-day expo taking place 16-17 November at ExCeL London. Register for free below to hear Stewart speak.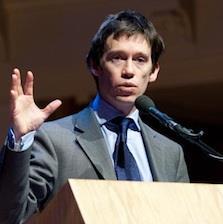 Rory Stewart's career has seen him work as a diplomat, travel writer and, most recently, a fellow at Yale University.
By age 35, Stewart had led such a colourful life that Brad Pitt's studio purchased the rights to his biopic.
But he became a household name following a less glamorous pursuit—an unsuccessful bid to become Conservative Party leader in 2019.
"If Conservative leaders were selected on their CV, Rory Stewart would win in a heartbeat," Alkan Shenyuz wrote in GQ at the start of the race, characterising Stewart as "low profile, reflective and moderate in his political views" and "the dark horse the country needs".
Ultimately, however, Conservative Party members opted for Boris Johnson, whose premiership of the party came to an end last month.
Stewart's more liberal and progressive tone seems absent from the current contest to replace Johnson, which is now a contest between Rishi Sunak, who has promised to amend UK equality law to fight "woke nonsense", and Liz Truss, who pledges to expand a scheme designed to deport illegal immigrants to Africa.
His character results from a long and distinguished career working with people from all over the world. This broad life experience also makes Stewart one of the most sought-after speakers at high-profile events.
An Alleged Spy and a Tutor to Princes
At a June 2019 debate during his bid to become Tory leader, Stewart was asked about rumours that he had worked as a spy before entering politics.
The claims first surfaced in a 2009 blog post by ex-ambassador Craig Murray and were repeated in a New Yorker piece the following year. A Whitehall source also reportedly told the Telegraph that Stewart worked as an intelligence officer for MI6 after leaving Oxford.
Stewart has repeatedly denied the allegations. But, as he noted at the time, government secrecy rules mean that, "even if you found someone who was an intelligence officer, they wouldn't tell you they were an intelligence officer".
But his father, Brian Stewart, who died in 2015, was indeed a senior officer for MI6, who also worked as Far East Controller for the Secret Intelligence Service in Hong Kong.
It was in Hong Kong that Stewart was born, before moving to England, where he attended Dragon School and Eton (where Tory MP Jacob Rees-Mogg, who was several years ahead of him, reportedly described Stewart as "strikingly and noticeably able" at age 13).
On leaving Eton, Stewart attended Oxford, working one summer as a tutor to Princes William and Harry. Stewart reveals little about his work with the young royals, but he has confirmed a rumour that he once accidentally locked himself in a safe room at Highgrove and was rescued by axe-wielding security staff.
It was around this time that Stewart began his long friendship with Prince Charles, with whom he later founded the Turquoise Mountain Foundation, an arts NGO operating in Afghanistan and the Middle East.
Returning to Oxford after the summer, Stewart switched from studying history to philosophy, politics and economics (PPE), a course popular among many of the UK's most successful politicians, choosing to squeeze the three-year degree into his final two years.
"There was only one paper I did remotely well in, and that was in Aristotle," Stewart told the New Yorker in 2010. "And I don't know anything about Aristotle."
Walking and Writing
After Oxford, in 1997, Stewart began a three-year posting at the British Embassy in Jakarta. A year into his post, he took a month-long break to walk across Irian Jaya (now called Western Papua) during a politically unstable period.
"We landed at dawn on Irian's northern coast to the sound of automatic weapons," Stewart later wrote in the London Review of Books.
This long walk inspired a two-year long hike, beginning in 2000, across Iran, Pakistan, the Himalayas and Afghanistan.
Stewart's award-winning 2004 book, The Places in Between, described his walk across Afghanistan, during which he was shot at, assaulted, and attacked by wolves.
"I had been walking one afternoon in Scotland and thought: Why don't I just keep going?" Stewart wrote in the book. "There was, I said, a magic in leaving a line of footprints stretching across Asia."
Stewart then served as deputy governate co-ordinator of two regions of Iraq from 2004-2005 and was involved in running elections and resolving tribal disputes.
His book about his experiences in Iraq, Occupational Hazards, was adapted for the stage.
"I was completely wrong about Iraq," Stewart told Traveller magazine in 2007.
"I believed that we were unlikely to turn Iraq into Sweden, but we should be able to create a country that was more democratic, prosperous and humane, which would be better for Iraqis, that it shouldn't be too difficult for us to out-perform Saddam… of course I was wrong."
Entering Politics
Before Stewart became MP for Penrith and The Border in 2010, he was reportedly told by friends that it was a "stupid idea". Stewart claims he had never voted for the Conservatives before running for office.
Stewart made headlines soon after winning his seat by writing controversial comments on his blog.
"Some areas around here are pretty primitive," he wrote, "people holding up their trousers with bits of twine…"
Stewart later apologised for the remarks, saying that he was trying to draw attention to the fact that "these areas need more investment and more public services" after having walked hundreds of miles around his constituency.
He maintained, however, that a report in the Sunday Mirror had taken his remarks out of context.
As a constituency MP, Stewart was involved in several projects that increased investment in the region, including extending broadband coverage in Cumbria, preventing the closure of a local cinema and a fire station, and building flood defences.
Stewart took on a series of government posts following the 2015 election, including environment minister, prisons and probations minister, and three international development posts.
In his final ministerial role, as secretary of state for international development, Stewart's priorities included doubling investment in climate change projects, deploying more development staff "on the ground" and combatting Ebola.
Bids for Leadership
Stewart began his 2019 campaign to replace Theresa May as Conservative Party leader as an outsider. But his unconventional and down-to-earth style soon gained popularity among the public.
Asked to name his biggest flaw during a televised leadership debate, Stewart cited his "privileged upbringing". He polled as the favourite candidate among the general public—but not, ultimately, among Conservative MPs and party members.
Following the election of Boris Johnson as Tory leader, Stewart quit the Conservative Party and announced he would not stand in the next election.
"He's not my type of person," Stewart told the Telegraph at the time.
"I'm suspicious of the whole show. I instinctively don't like the evasions, the equivocations, the jokes, the punchiness, the lack of earnestness."
But Stewart described his ultimate feeling of relief at having left Conservative politics.
"In an odd way, I owe Boris a debt of gratitude," he said. "Had he left me in the party I'd have been gently languishing on the backbenches for the next five years."
Stewart stood as an independent candidate for London mayor in 2020, ultimately losing to Labour candidate Sadiq Khan.
Stewart's mayoral campaign involved the pursuit that helped make him famous: walking.
He announced he would walk through all 37 London boroughs and asked Londoners to invite him into their homes to show him the city "through their eyes" (and reportedly received around 2,000 such invitations).
Stewart is now a senior fellow at the Jackson School of Global Affairs at Yale University, focusing on "contemporary politics in crisis and on international development and intervention in fragile and conflict-affected states."
Rory Stewart may have left politics, but his name comes up a lot in relation to the current political environment. And he doesn't restrain from lamenting the current state of government.
"The thing that I keep struggling with is this gap between the sort of language—all this talk from all these political parties—and the reality of getting things done on the ground," Stewart said in an interview last month.
"What I really respect in people is administration, governing, running things, doing things—not talking about things," he said.
"But of course, politics is primarily about talking not doing."