An ICT industry veteran with more than 16 years' experience as a Cyber Security Practitioner.
Funzani is a seasoned CISO, who has led and transformed various security programs in a leadership role, in the consulting, financial services, and telecommunications industries.
Funzani has a proven track record of delivering complex security projects, and driving focused delivery across multidisciplinary teams extending beyond IT.
Funzani holds a BCom Honors degree in Informatics, Certified Information Security Manager (CISM) certification, as well as a post-graduate diploma in Cyber Law. Funzani is currently studying towards a Bachelor of Laws degree.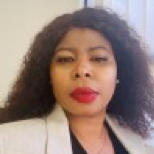 My Sessions
How to Avoid Sanctions Under the POPIA
Tuesday 18 January 2022 - 12:00 - 12:45 PM (SAST) | 10:00 - 10:45 AM (GMT)